Residential Backyard Putting Greens
In recent years, the trend towards residential backyard putting greens in Seattle has risen significantly. When it comes to golf, avid players recognize the value of having a consistent level playing field. Natural grass putting greens have been able to achieve this to a certain level for many years, though it takes immense upkeep and skill to maintain. However, when it comes to golf, there is nothing quite like the maintenance free and breathtaking majesty provided by SYNLawn Seattle's artificial turf.
The name SYNLawn is highly regarded in the artificial turf industry. In the last 45 years, the company has become synonymous with quality and excellence. Today, SYNLawn is the largest manufacturer and installer of synthetic landscape turf for residential and commercial use including, pet turf, playground grass, and synthetic putting greens.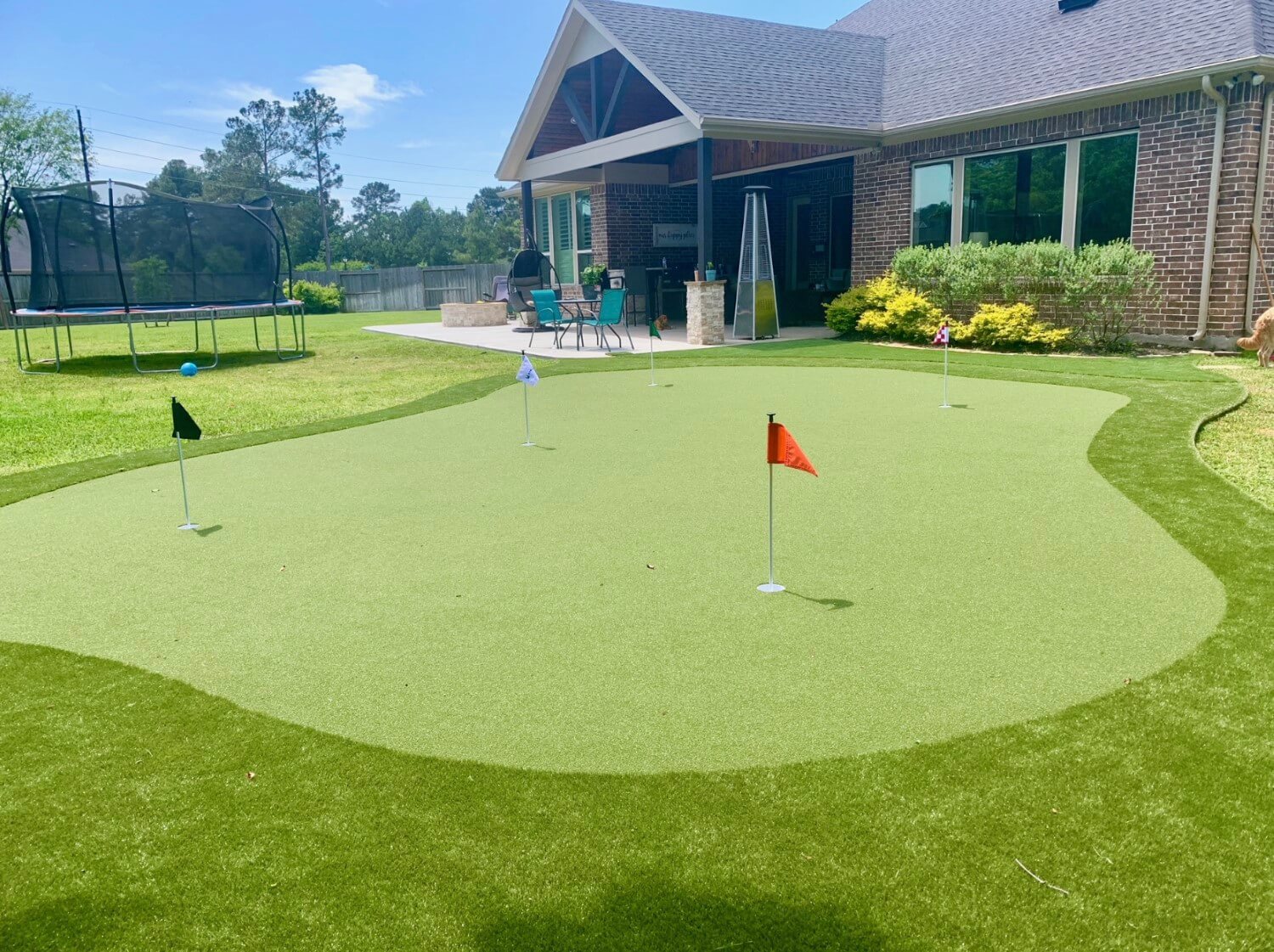 Why Our Backyard Putting Greens have continued to exceed expectations
A residential backyard putting greens is all about convenience. No one, least of all golfers, wants to spend time stuck in traffic driving to their favorite golf course. As a result, synthetic backyard putting greens have seen a big increase in demand. Here are the most common reasons why: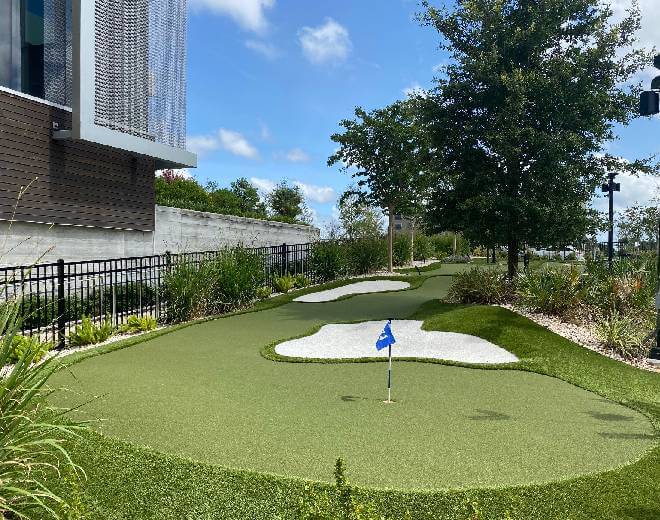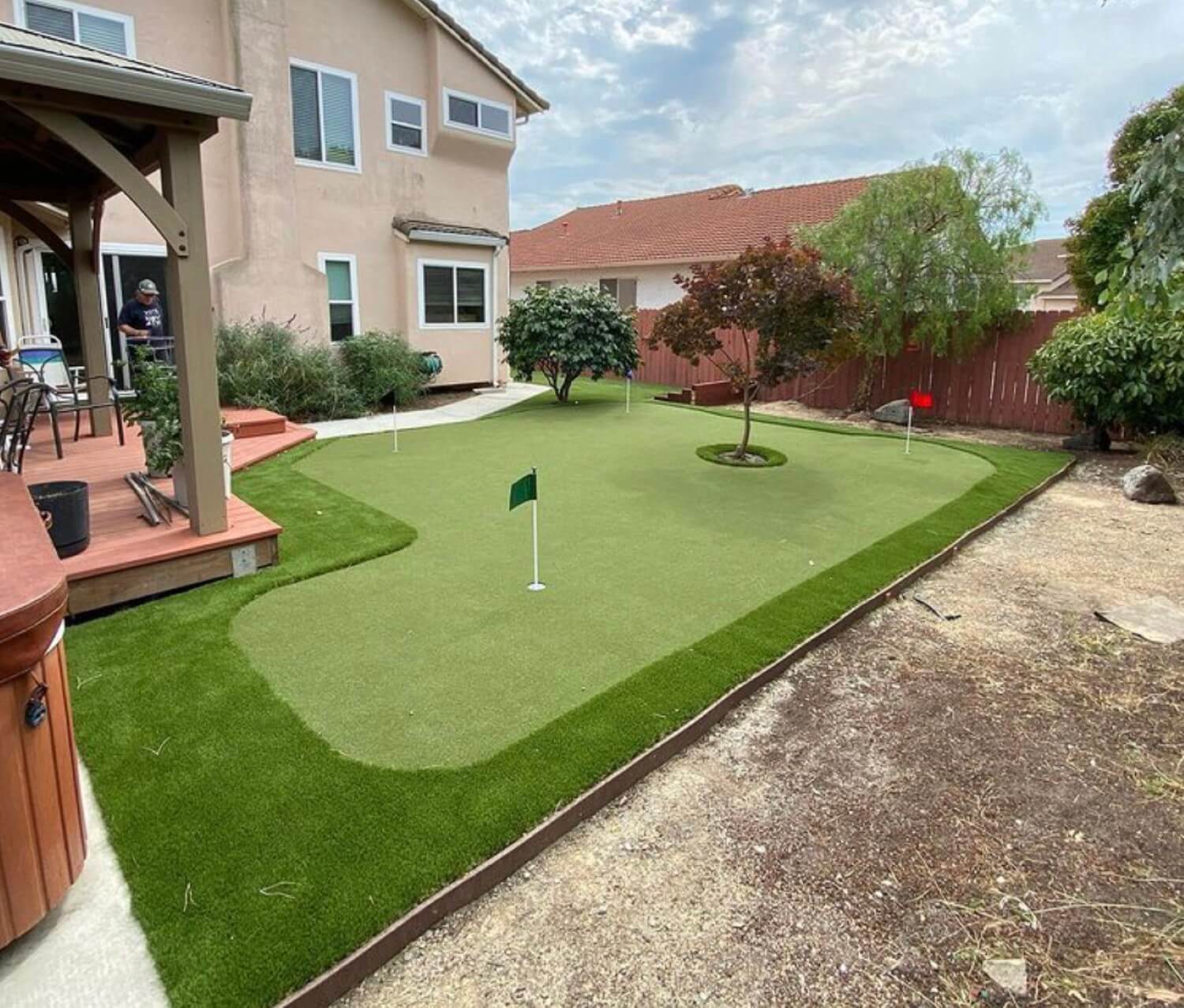 Enjoy Golf at Your Leisure
Golf has long been associated with sprawling country clubs and suburban courses. Thanks to SYNLawn Seattle, this is quickly becoming a thing of the past. Now golfing enthusiasts can install an artificial backyard putting green right in their residential backyard. No more time-consuming drives to distant golf courses. Similarly, you never have to worry about downtime when the golf course is either closed for maintenance or inclement weather. With your very own synthetic golf course, you can play and practice any time you want. Ultimately, this will greatly improve your short game.

While there are people in Seattle who love to work on their lawns after hours or during weekends, the vast majority of us prefer to spend our time doing something we enjoy. Installing a putting green at your home can go a long way in helping you achieve this. It requires no lawn mowing, trimming, seeding, weeding, pruning, and installing costly irrigation systems.
Many housing complexes are obliged to maintain their lawns in excellent shape by their homeowner's associations. Consequently, this forces them to retain expensive and time-consuming landscaping companies. With artificial turf from SYNLawn Seattle, you can cancel these contracts with confidence, knowing that your lawn will never fade or deteriorate in quality, regardless of the weather or how it is used.
Installing a SYNLawn Seattle residential backyard putting green turf can be one of the most effective ways of making a positive contribution to environmental protection. First and foremost, SYNLawn uses innovative manufacturing technology to produce high-quality turf from plant-based materials that have been authorized by the FDA. As a result, our turf is completely recyclable and biodegradable.
Because of the synthetic nature of our turf, it will never require any chemicals, such as fertilizers, to maintain its luster. These substances have been linked to environmental deterioration as a result of their contamination of soil and groundwater resources. Artificial turf installation is one of the most effective techniques to minimize atmospheric carbon emissions since it eliminates the need for fossil-fuel-powered lawn maintenance equipment.