Synthetic Playground Turf for Seattle, WA
Numerous Seattle businesses have been switching to artificial grass for their playgrounds. It's not difficult to understand why: the grass is safe for kids, looks amazingly refined all year long, has virtually no maintenance costs, and is eco-friendly. Its cozy texture is ideal for kids whose parents and caretakers stress the importance of safety. The turf is incredibly durable, meaning it can withstand the pressure of prolonged foot traffic. If you're ready to make the transition, contact SYNLawn Seattle today!
Seattle, WA Residential Synthetic Playground
Children are always game to play on any surface but in order to keep them safer while on your business premises you want to have the built-in safety features that are part of our playground turf. With our synthetic playground turf it's like a hidden sentinel protecting the children from trips, stumbles and impact falls. 
With artificial playground turf installed, it is the best way to ensure children's safety, given its multi-layered structure, which provides soft padding against falls and injuries. It also minimizes landscaping costs since it does not need to be watered, seeded, or nurtured with expensive chemicals.
Commercial Artificial Playgrounds
Artificial grass for commercial playgrounds has also been gaining traction in Seattle, WA. These include city and local parks, school playgrounds, daycare centers, and even restaurant play areas. In addition to providing much-needed safety, playground turf can be installed indoors, needs virtually no maintenance, and is environmentally friendly. 
Seattle's play parks are expensive to maintain. This is because the natural grass has to be professionally and regularly nurtured in order to look immaculate. The costs also include labor and chemicals used in landscaping. Playground turf is the ideal remedy given it is easy to install, affords critical safety precautions against falls, and looks stunningly realistic all year long without the need for nurturing.
Playground turf is also ideal for child daycare centers. Since they have to abide by strict safety guidelines, they can benefit tremendously from artificial grass' luxurious padding and multi-layered cushioning that guard against accidental injury from falls. The turf can also be installed indoors, meaning children can enjoy playtime regardless of the weather.
School playgrounds are also ideal candidates for playground turf. Due to the level and intensity of activity by kids, safety is always a concern. Our synthetic playground turf's multi-layered padding provides a much-needed cushion against falls and scratches during playtime. Additionally, since synthetic grass does not harbor fleas or pests, children are further protected against grass and weed allergies and insect bites.
restaurant children's play areas
Many restaurants in Seattle have designated play areas for diners with children. As with schools and daycare centers, parents, caretakers, and restaurant operators have to make provisions for adequate child safety while still maintaining the restaurant's visual appeal. The best way to achieve this is by installing synthetic grass. Its soft padding affords the required safety mechanisms without compromising aesthetics. Restaurants can also benefit from the cost savings of not having to deal with perpetual landscaping
Benefits of Synthetic grass for artificial playground turf
Synthetic grass comes with a myriad of benefits for playground operators:
SYNLawn Seattle's synthetic turf and its components are made in the USA. In addition to supporting the American worker, it boosts the economy by promoting job growth. And because none of our artificial grass components are outsourced, customers are able to benefit from lower costs.
Our commercial artificial turf products are derived from purely recyclable materials. For instance, various components are made from sugarcane, a renewable and carbon-neutral resource that can be cheaply recycled for future use in other products. This is what being eco-friendly is all about.
Synthetic turf is much easier to maintain than natural grass, which requires constant care in order to remain pristine. Playgrounds can now enjoy lower costs while looking absolutely stunning all year round.
Our artificial grass is 100% environmentally friendly. It is USDA certified as a bio-preferred turf, made from plant-based material and reducing petroleum consumption by 60%. Additionally, it can reduce the average American business' landscaping water consumption by up to 50%!
And because synthetic turf does not need to be watered, fertilized, or treated with pesticides. Pesticides eventually break down, and their components are often toxins that can re-enter the water system and harm humans, vegetation, and wildlife. Our turf is also highly durable, meaning it won't have to be frequently discarded and replaced.
As seen on playgrounds and sports tracks commonly, SYNPour™ Poured-in-Place (PIP) systems are the best surfacing solution for safe play areas and athletics. It is bound with our SYNPour 100 and 200 binding materials, making them very durable and unlikely to be displaced over time. Available in a multitude of colors, SYNPour Poured-in-Place creates a colorful, seamless surface that can be applied almost anywhere. Customizable to fit any space or shape, the design possibilities are limitless and can include fun shapes or team logos.
SYNPour™ PIP is mixed and installed on-site to form a customized, resilient surface to reduce the severity of head injuries and falls from playground equipment. PIP can also reduce joint impact for athletes in training and competition. In addition to safety, reduced maintenance costs are another reason PIP has become a popular option for universities, schools, communities, and municipalities looking to reduce costs while increasing safety. SYNPour is also ADA compliant and wheelchair accessible which equals more fun for everyone.
Common Applications Include: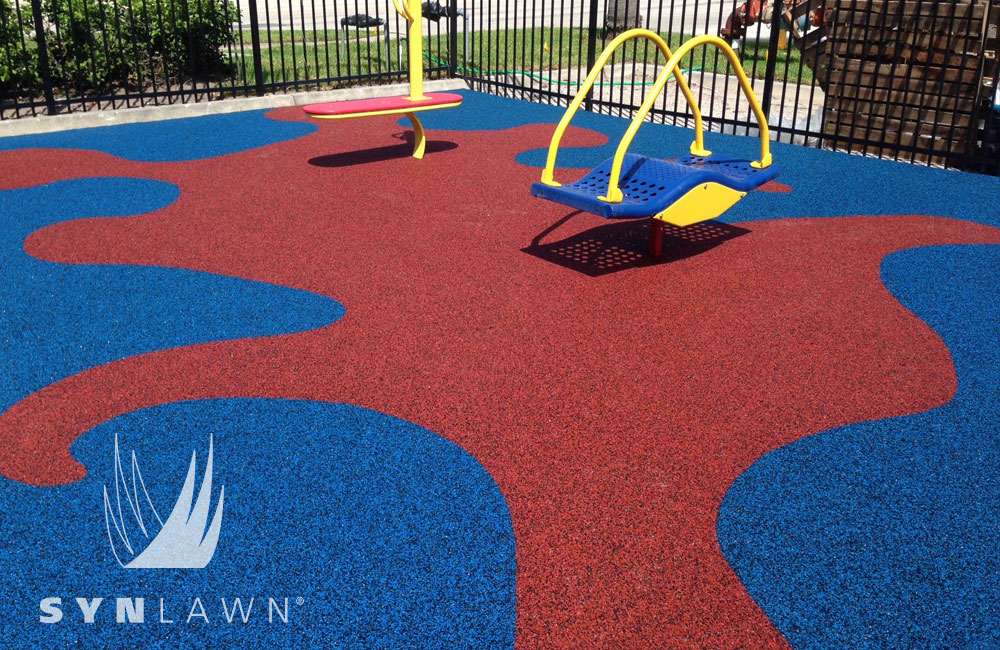 Synthetic playground turf comes with numerous safety benefits:
Synthetic grass is fused with multiple layers of cushioning material which acts as a soft padding against falls. Not only does it feel luxurious, but it also protects against injuries resulting from accidental falls.
Allergies can be a nuisance, especially in the springtime when grass allergens are the most prevalent. Artificial playground turf doesn't produce allergens, decreasing the impact of seasonal allergies for whoever is on it.
Natural grass poses various trip hazards for kids. These include holes and knots, which can lead to falls and bruises. Synthetic grass literally levels the playing field, eliminating the ways children can trip and fall while playing.
Because synthetic turf is composed of multiple layers of cushioning material, it can drastically reduce the impact from falls. If you have older patrons with sensitive knees or a bad back, synthetic grass is much more comfortable to walk and play on, especially helpful with those that are watching after their energetic grandkids. 
Unlike natural grass, synthetic turf with infill remains relatively cool on hot days. It will not only provide a comfortable place to play, and kids find it pleasant to walk, lie or even play on.
While natural grass attracts annoying mosquitos and horse flies, among other unpleasant things, those same biting insects have no reason to invade artificial grass. This is because synthetic grass isn't a habitable place for them to be.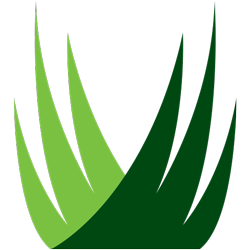 Don't get tricked by other artificial grass companies hawking unsustainable commercial play turf. SYNLawn Seattle is the go-to provider for environmentally friendly, safe, and easily maintainable synthetic playground turf that will give you some peace of mind. Kids aren't the only ones who will love it; we guarantee your budget will too! Ask us about our great
commercial financing options for your business' new synthetic playground turf.
If you are also interested in additional commercial synthetic grass landscaping options to go along with your new commercial playground turf, just let us know. We offer a vast array of aesthetically pleasing, functional options such as: