HeatBlock™ Technology Only Found in SYNLawn®
Many of us have experienced the disappointment of finding faded patches on our lawns or the discomfort of surface temperatures in the summer months. That is why SYNLawn developed an exclusive technology with the sole purpose of preventing these unfortunate effects from the sun. Introducing HeatBlock Technology; an exclusive turf technology designed to provide cooler surface temperatures than any other turf on the market!
HeatBlock substantially reduces surface temperatures, removes the shine found on turf fibers, and prevents thermal emissivity. We want to provide you with a maintenance-free lawn that you will be able to enjoy all year long, especially during the summer months when it's the prime time for barbeques and outdoor family fun.
When traditional grass is consistently exposed to sunlight, it often results in dead grass patches, and when other turf brands are exposed to too much sun, you run into fading, melting, and burned feet. Our plant-based synthetic grass blades stay cooler all year long, will not fade in the sun, and will provide you with a more enjoyable lawn space.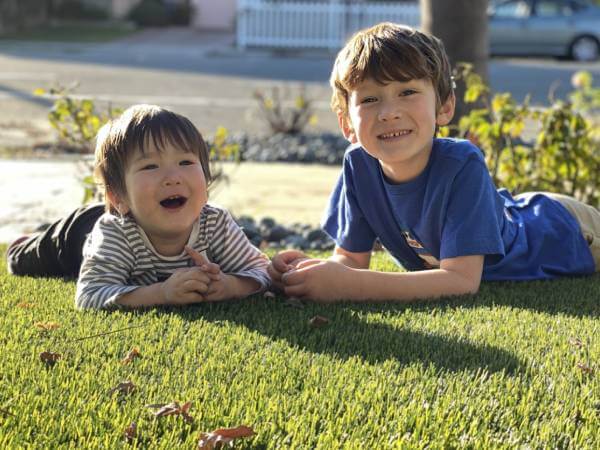 Seattle Artificial Grass with the Coolest Surface Temperatures
HeatBlock was developed from the ground up to prevent our products from absorbing too much heat and make them safe and useable regardless of the time of year. HeatBlock reduces artificial turf temperatures by reflecting sunlight with infrared reflective pigments that assist in diffusing heat build-up and diminishing fiber emissivity.
When compared to competing artificial grass products, SYNLawn with HeatBlock Technology is scientifically tested and proven to provide up to 20% cooler surface temperatures. Thanks to HeatBlock technology and our several other proprietary turf technologies, we can continue to dominate the market by offering the highest quality synthetic grass in Seattle, WA and surrounding areas.
Alongside HeatBlock, SYNLawn offers the strongest warranty against reflective light. This implies that, for commercial rooftop installations and other installations with exposure to reflective light, your installation will be protected for the long term. With our low-maintenance, ultra-realistic Seattle artificial turf your commercial or residential landscape will leave lasting impressions for many years to come.
SYNLawn products with HeatBlock make our surfaces more enjoyable for children and pets. As a result of the increased safety, your pets and children will not burn their feet or paws if they walk across our lawns on a hot and sunny day. SYNLawn Seattle synthetic grass reflects more infrared radiation, stay cooler in the midday light, and does not absorb and retain as much heat as alternative lawn solutions.
Schedule a Free Consultation Today to Learn More!
We take all of our customer's needs in mind when we begin a project. From child safety requirements to pet-friendly accommodations, we strive to provide the highest level of customer service and synthetic turf installations possible. That is just another quality that sets SYNLawn apart from its competitors. In addition, we work closely with landscape architects, architects, general contractors, and more to create safer, cleaner, and technologically advanced environments for everyone to enjoy. For more information on how Seattle artificial grass can enhance your landscapes, contact SYNLawn today to schedule a lunch and learn or a free consultation today!
Get a free estimate by providing your information below:
Please fill out all mandatory fields with an asterisk *
Your information will be held confidential with our company.