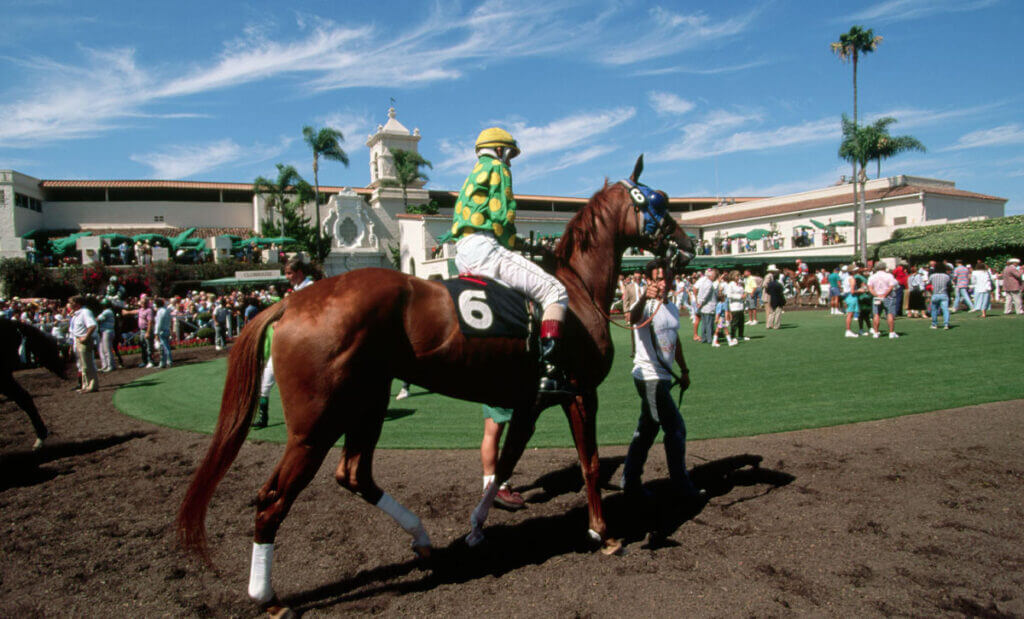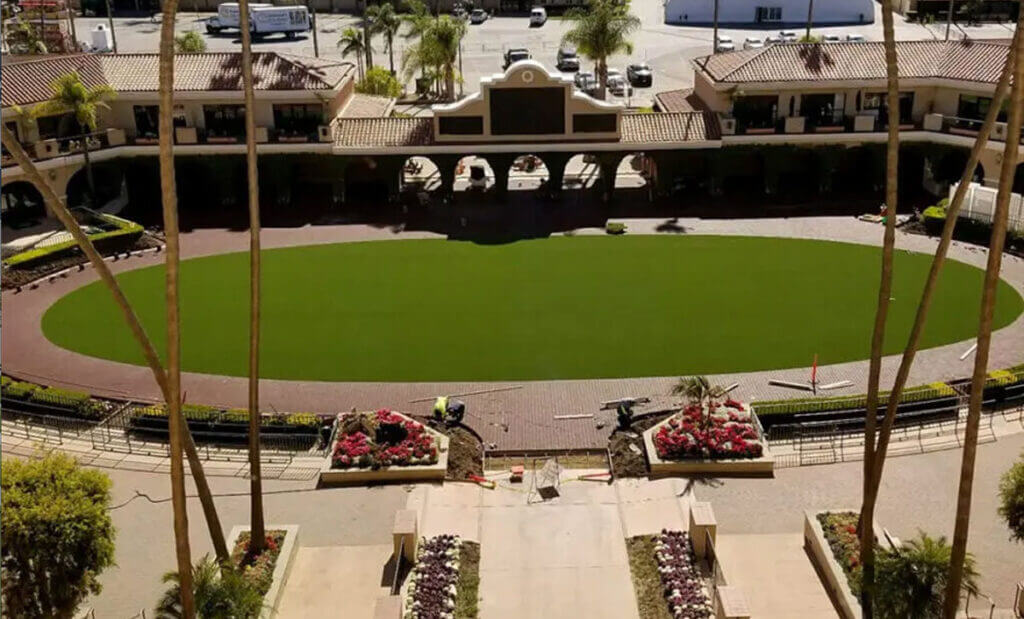 Location: Del Mar, San Diego
Square footage: 8,500 square feet
Product Used: SYNTipede 343
How Long it Took to Install: 5 days
Designed to withstand heavy foot traffic, like the millions of Del Mar Racetrack visitors, SYNTipede 343 was the perfect landscape solution for this project.
SYNTipede 343 is at the cutting-edge of artificial turf technology, featuring a medium pile height with exceptional strength and fortitude.
Regardless of the time of year or use, SYNTipede 343 continues to look its best year after year. Property owners choose SYNLawn® because we are the leader in our industry and the largest manufacturer of synthetic grass in the USA.
We innovate advanced turf products such as SYNTipede 343 to create products unlike any other on the market.
SYNTipede 343 is made with our revolutionary Super Yarn™ turf yarn making it one of the most durable, clean, and safe commercial lawn products ever designed.
SYNLawn® exclusive Super Yarn™ is a first-of-its-kind technology that combines three of the industry's most unique enhancements into one yarn formulation:
Sanitized® Antimicrobial - removes pet odors and 99% of bacteria from turf surfaces as well as prevents the growth of bacteria and mold
DualChill™ IR Reflective Technology - substantially enhances long term blade integrity and protects surfaces from fading under direct sunlight
StatBlock™ Anti-Static - prevents the buildup of static electricity from the turf surface
SYNTipede 343 provides a medium pile height, phenomenal resilience, and a vibrant appearance making it the ideal choice for many commercial applications.
SYNTipede 343 has an ASTM E108 Class A fire rating, allowing for a longer period of time between the start of a fire and the arrival of the fire department.
In addition, SYNTipede 343 includes features such as deluster, our EnviroLoc™ backing system, UV stabilizers, and more making this SYNLawn® turf product unlike any other artificial grass on the market today.
SYNLawn® works with US soybean farmers, landscapers, and designers to create the safest, cleanest, and most sustainable artificial turf products and landscapes.
Instead of using traditional petroleum-based materials, our EnviroLoc™ backing system uses soy-based materials making our products far more eco-friendly than any other competing turf brand.
Our soy-based artificial grass requires little to no maintenance, conserves tens of thousands of gallons of water annually, and cuts down carbon emissions from lawn equipment.
Furthermore, SYNLawn® partners with various industry professionals such as architects, landscape designers, landscape architects, general contractors, construction companies, private schools, school districts, universities and more.
SYNLawn® products are warranty-backed and can be customized to any commercial specification. For more information on our services and products, contact us today for a free consultation!