Kent, WA Artificial Grass Installation
SYNLawn is a premier provider of ultra-realistic artificial grass in Kent, WA. We specialize in manufacturing eco-friendly and technologically advanced grass alternatives that save our customers time and money while providing stunning, everlasting impressions through agricultural innovation.
The popularity of Kent, WA artificial turf is rising daily and SYNLawn clients are living differently without the seemingly endless mowing, watering, and weed whacking required of real grass. Our
products are kid and pet friendly and are perfect for a wide variety of applications such as:
Lawns
Commercial landscapes
Putting greens
Playgrounds
Pet runs & dog parks
Parks & sports facilities
Roofs, decks, & patios
Poolside
Apartment complexes
Restaurants
Retail shopping
Hotels & many more!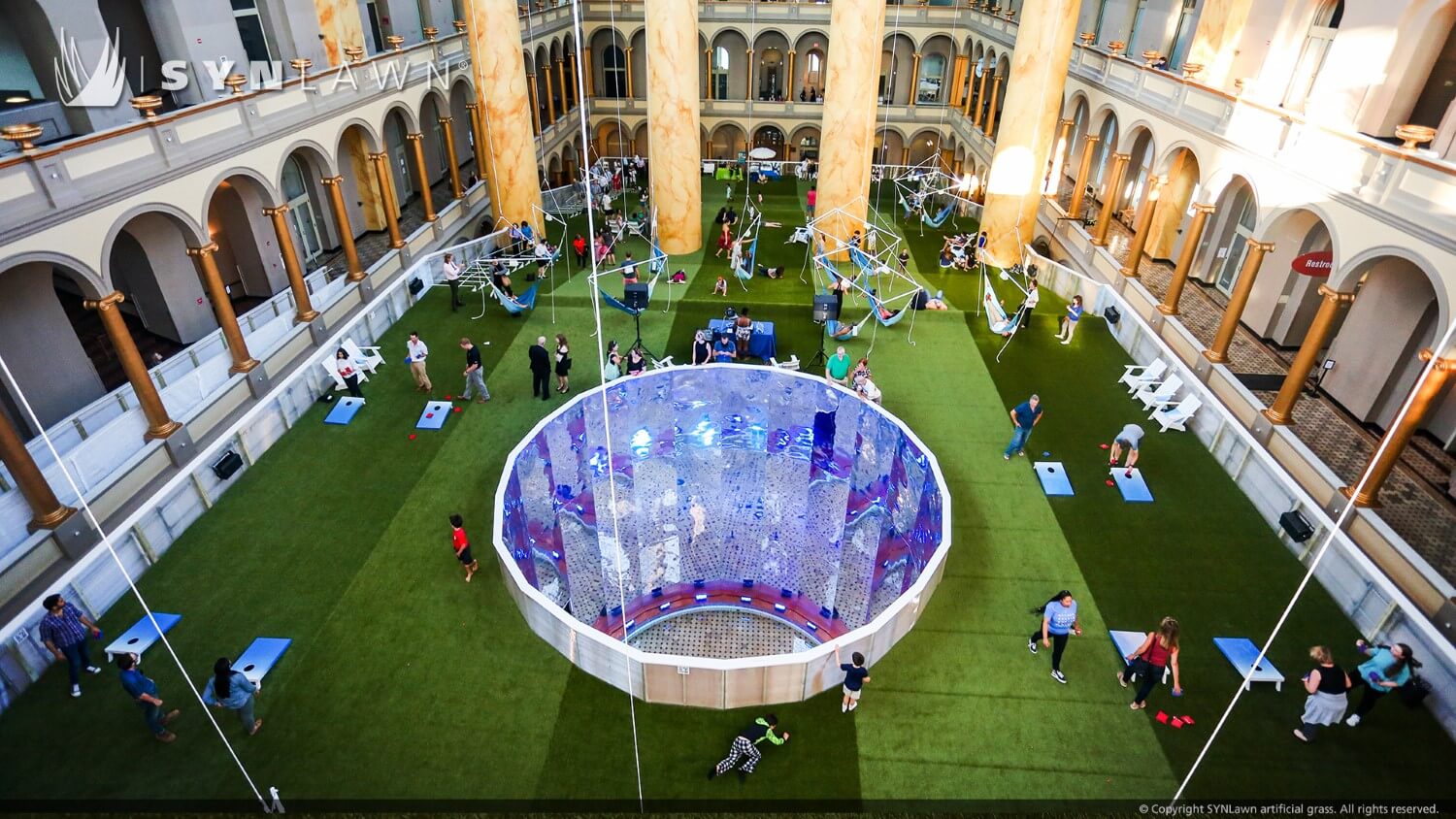 Commercial properties are particularly fond of installing SYNLawn synthetic grass in Kent, WA because heavy foot traffic once caused their once beautiful lawn to deteriorate. SYNLawn synthetic turf offers superior durability and performance to outlast the high intensity of athletic training as well as the harsh Seattle elements. In addition, business owners can rest assured knowing that their landscape installation from SYNLawn provides the highest safety and environmental standards.
Exclusive benefits and features of Kent artificial turf include but are not limited to:
Super Yarn™ technology combines Sanitized® antimicrobial to prevent stains, odors, and the buildup of mold and bacteria, DualChill™ IR reflectivity to prevent surfaces from fading, and
StatBlock™ anti-static to prevent the transfer and accumulation of static electricity
EnviroLoc+ plant-based backing system locks-in turf fibers to prevent shedding and tearing
HeatBlock™ technology cools surface temperatures by up to 20% more than alternative turf brands
The only turf company to provide grass alternatives certified by the USDA for their bio-based composition
IPEMA certified and ADA compliant wheelchair accessibility
ASTM E108 Class A fire-rated options that are tested and proven to slow and prevent the spread of fires
Envirofill®️ infill can be added to the turf to further eliminate odors caused by pet waste and bacteria buildup
Free of harmful chemicals and heavy metals
Hypoallergenic
Optimal drainage allows for use right after it rains
Turf fibers made from sugar cane with turf backing made from soybean oil
Made in the USA
Backed by the industry's strongest lifetime warranty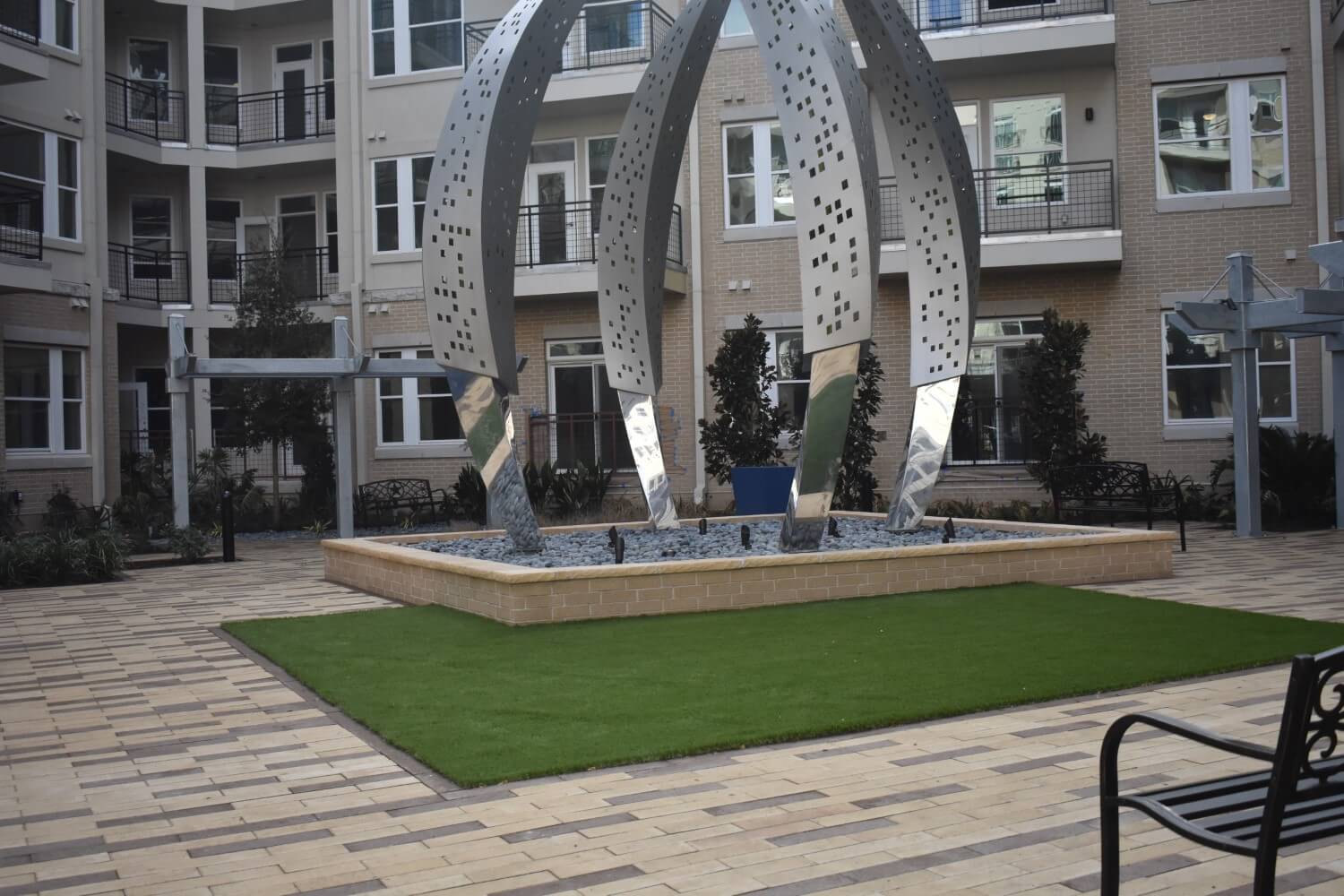 Kent, WA Playground Turf Systems from SYNLawn®
As parents, we love to see our children happy and healthy. That is why we make safety the top priority when we manufacture our playground turf surfaces. We abide by stringent safety standards to help protect our children from common injuries that can be found on the playground and in the backyard. Each Kent, WA playground surface installation undergoes testing and IPEME certification to ensure lasting protection against falls of up to 10-feet that can lead to more serious injury. Furthermore, SYNLawn offers TrampleZones® that can be added under slides and swing sets for additional shock absorption padding. Our kids can enjoy time with their friends and family without us having to be on the edge of our seats. Many other playgrounds are manufactured with abrasive materials such as pea gravel, sand, and other abrasive materials, but with SYNLawn you get a sanitary, soft, and cool lawn, all year long!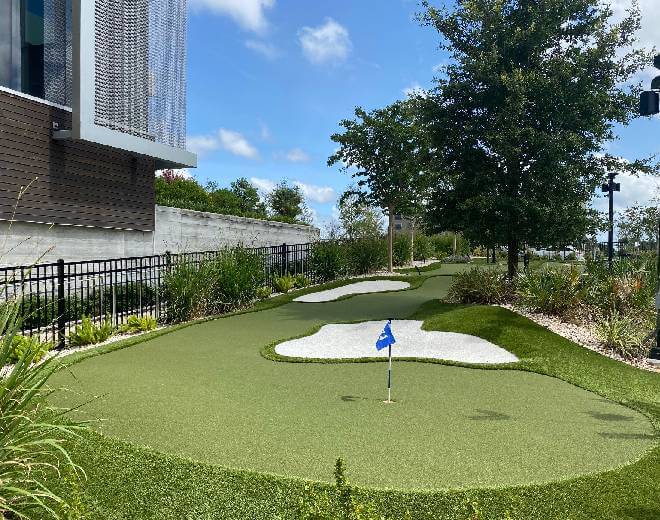 Professional Grade Golf Putting Greens in Kent, WA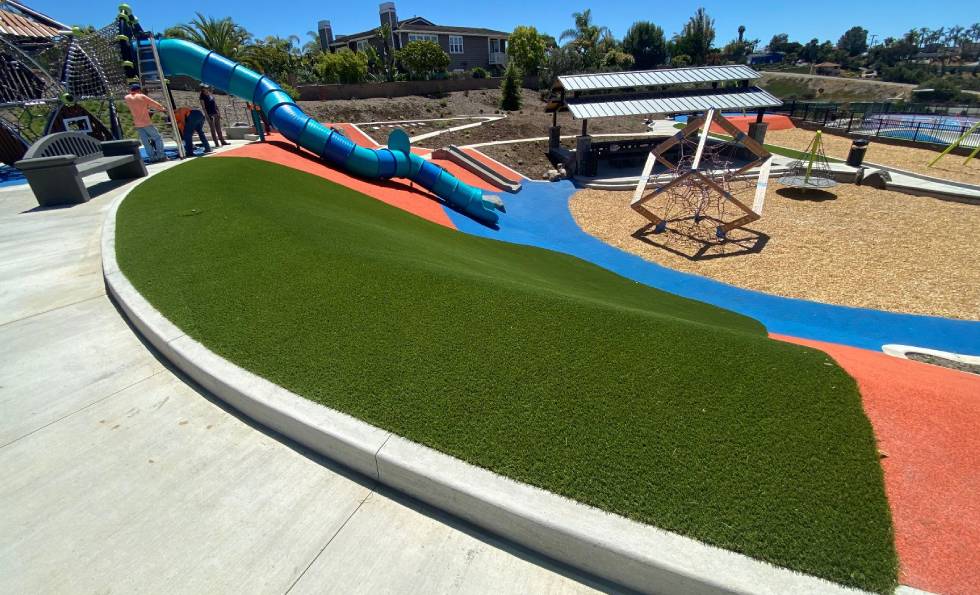 With its 10.3 Stem meter rating, SYNLawn golf greens in Kent, WA offer PGA-caliber performance and superior durability to provide you with the most authentic golf experience from the comfort of your home or workplace. They were created with the assistance of professional golf instructor Dave Pelz and ex-NASA engineers to replicate the look and performance of real grass golf greens as clos possible. Our cutting-edge golf greens are perfect for golfers of all ages and skill levels looking to save time and money on lawn maintenance that can instead be applied towards their passion for golf.
Designed to absorb and disperse energy like professional golf course greens
Precision installation services provided by certified SYNLawn® GreenMaster™ professionals
Customizable with obstacles such as sand traps, bunkers, tee boxes, and LED lights
Indoor and outdoor compatibility
Non-perforated surfaces prevent water from settling beneath the turf surface and washing the base out resulting in golf green deformation
Provides users with the most realistic putting experience, true ball roll, and proper energy absorption for a natural slow down
Kent, WA, Pet Turf Installation
Dog parks, backyard dog runs, doggie day cares and more, are benefiting from SYNLawn pet grass installation in Kent, WA. We truly love our pets and in response, we have engineered the cleanest, safest, and most durable pet-friendly lawn solution specifically for them. Our pet systems provide a long installation lifespan thanks to its superior durability during use, ability to prevent digging and shifting on impact, fade resistance, and stain and odor resistance. No more dead grass patches, muddy paws, holes in the yard, and no more fleas, ticks, and other unwanted pests.
We add Envirofill® infill to our pet turf installations which is an acrylic sand infill that prevents odors and stains caused by ammonia in pet waste; actively eliminates up to 99% of bacteria from the turf
Provides protection from fleas, ticks, and other pests that are capable of transmitting diseases
Hypoallergenic lawn system
Superior durability and performance to endure even the most active pets
We offer extra enhancements to protect against even the most destructive canines
Free of harsh chemicals and harmful heavy metals
Superior drainage keeps lawn surfaces ready for use, even after a heavy rain