Artificial Grass Installers in Mercer Island, Washington
Our low-maintenance and hyper-realistic Mercer Island artificial grass solutions are saving residents vast quantities of water and money typically spent on lawn care equipment and maintenance crews. Thanks to our plant-based composition, we are able to provide landscapes throughout Mercer Island with a more sustainable synthetic grass.
By using our synthetic grass, which is created from recyclable materials such as sugar cane and soybean oil, your carbon footprint and landfill impact are reduced and tens of thousands of gallons of water can be saved annually. To continue these achievements, we work closely with US farmer partners to source our materials as well as manufacture our own products in-house, so we have complete quality control our products through every step of our manufacturing process.
Benefits of a SYNLawn® artificial turf installation in Mercer Island, WA include:
Provides an ultra-realistic alternative to natural grass
Easy maintenance helps you save time and money on water bills and maintenance crews
Environmentally safe, made with recyclable plant-based components
Tough backing system made from soybean oil called EnviroLoc+ helps to prevent shedding and fiber loss as well as shifting and tearing
SuperYarn™ antimicrobial yarn implements an effective antimicrobial by Sanitized® to provide mold and bacteria-free lawn surfaces
SuperYarn also includes DualChill™ IR reflective technology to prevent surfaces from fading and
StatBlock™ technology to prevent the transfer and accumulation of static electricity
Superior drainage keeps surfaces enjoyable and ready for use even after heavy rainfall
Odor-controlling top-dressing substantially reduces and eliminates odors caused by pet waste
Fire safe and tested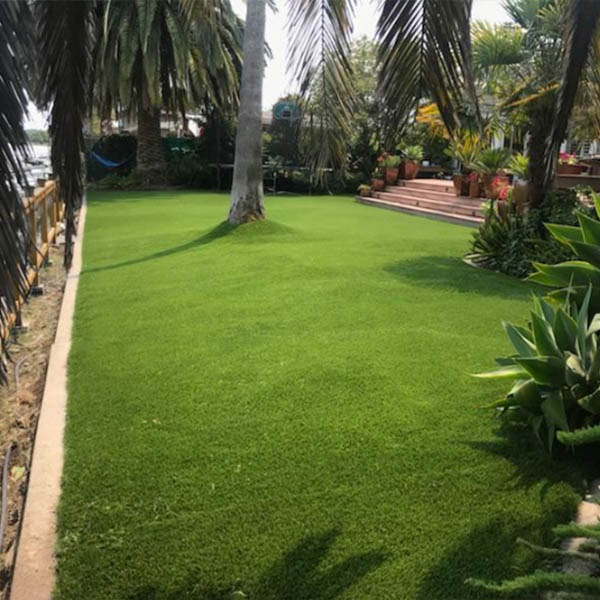 SYNLawn® Pet Grass Installation in Mercer Island, WA
Give your pet their new favorite place to play outdoors. SYNLawn provides the safest, cleanest, and most durable pet grass Mercer Island has to offer. No more muddy paws, fleas, ticks, or holes in the yard. All year long your pet can enjoy the finest and most luxurious place to play and relax. In addition, the drainage properties of our turf in combination with proper irrigation eliminate mud and resolve areas that flood easily. Each Mercer Island pet turf installation can reap many benefits such as:
Stain and odor resistance with Envirofill® infill; an acrylic sand infill that prevents odors and stains caused by pet waste
Hypoallergenic surface for pups that struggle with allergies
Superior durability and performance to prevent pets from digging holes and support active pups
Free of harsh chemicals and metals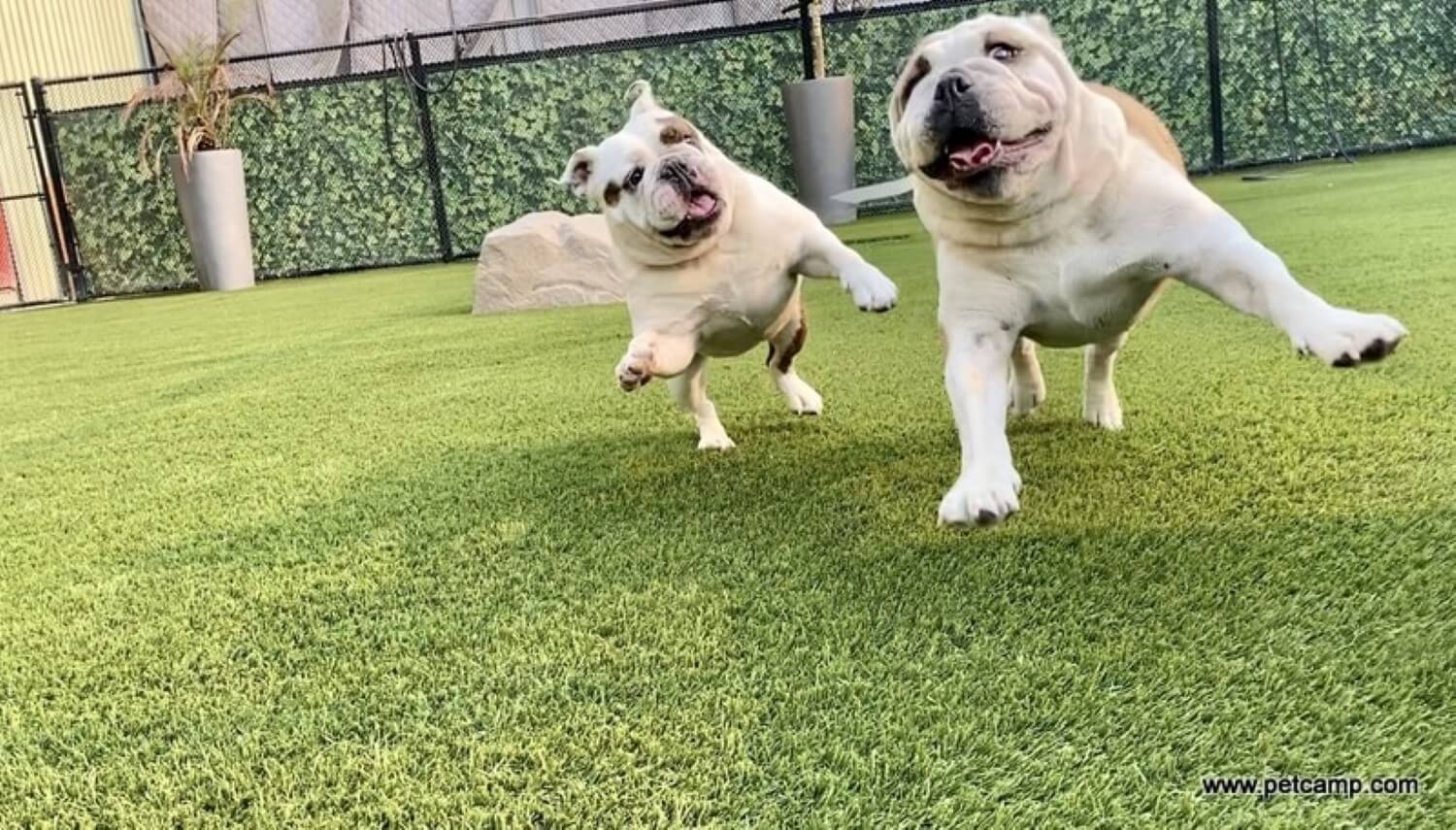 Mercer Island Playground Surfaces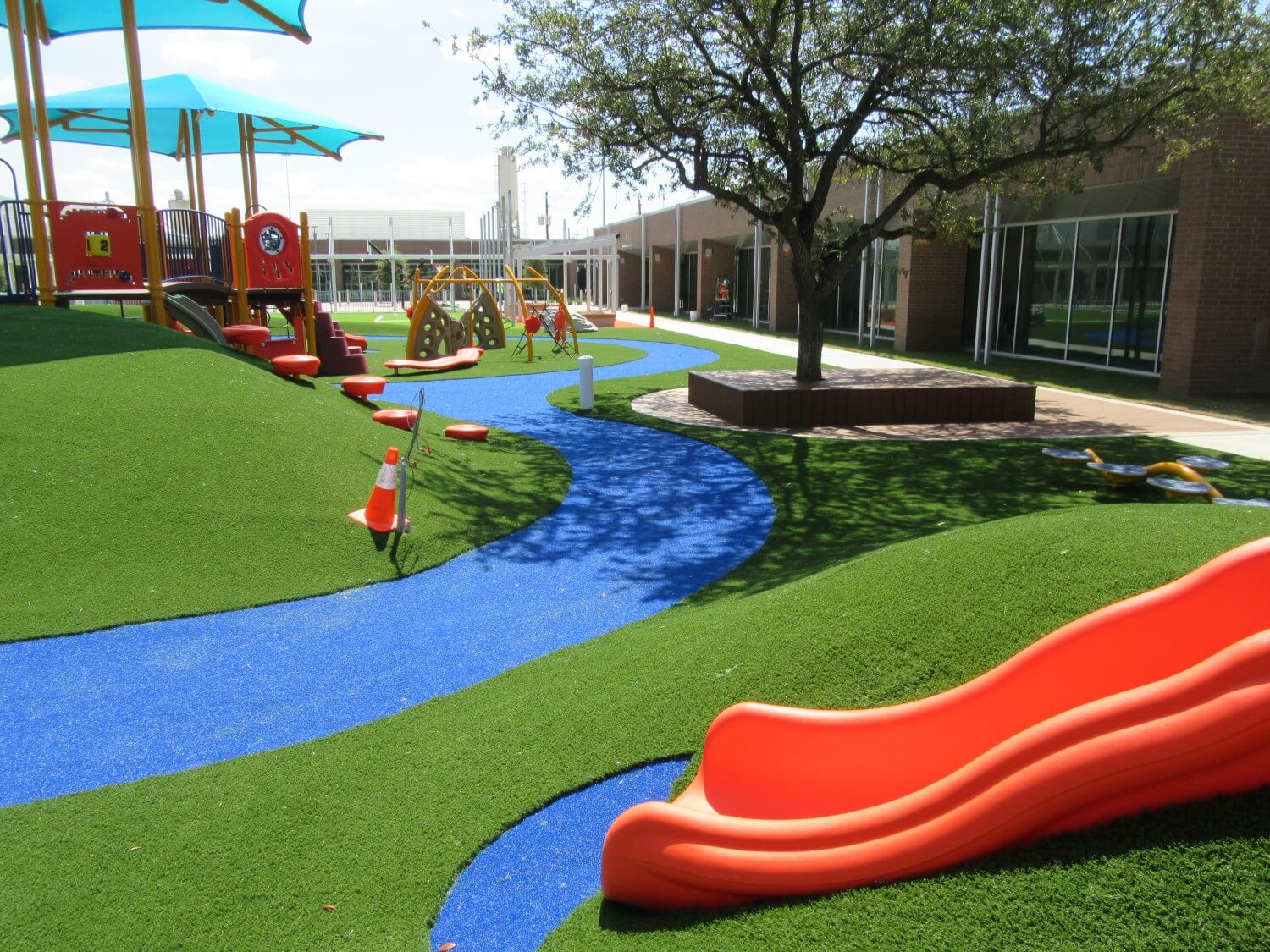 Mercer Island playground turf systems from SYNLawn are IPEMA certified and ADA compliant, making them the perfect playground surface for schools, day cares, municipalities and more. Our playground grass installations will not move upon contact allowing wheelchairs to safely traverse across it and kids to run around and play hard without tripping over a wrinkled surface. In addition, we are the only firm to provide an extended line of ASTM Class A fire-rated items for further safety on any project. This means that our turf has undergone extensive testing to slow the spread of fires by melting and blackening rather than combust and fuel the growth of a fire.
SYNLawn playground flooring installations provide exclusive features including:
A top layer consisting of soft, synthetic grass that is non-abrasive to the skin
StatBlock™ is a carbon-based anti-static component that prevents the transfer of static electricity from playground equipment to the turf
HeatBlock™ lowers rising surface temperatures by reflecting sunlight and reducing heat buildup, resulting in a 20% cooler grass solution than alternative brands
Fall Pad® subbase cushioning technology provides a shock absorption padding underneath the turf that reduces the severity and frequency of injury
ASTM tested to meet HIC (Head Injury Criteria) requirements
Putting Green Installation in Mercer Island, WA
SYNLawn collaborated with renowned golf instructor Dave Pelz to develop putting green surfaces that mirror the high performance of professional golf greens. With the ever-growing popularity of golf, SYNLawn is the ultimate choice for custom golf greens in Mercer Island.
Custom-designed putting greens for indoor and outdoor use
Options available for every skill level, budget, and space
Realistic putt, true ball roll, and natural slow-down characteristic
UV protected to prevent color fading
Zero maintenance costs
Designed to absorb and disburse energy like professional courses
Fringe, fairway, and rough surfaces are available
Quick assembly, non-skid portable putting greens available in many sizes
Precision installation services provided by certified SYNLawn® GreenMaster™ professionals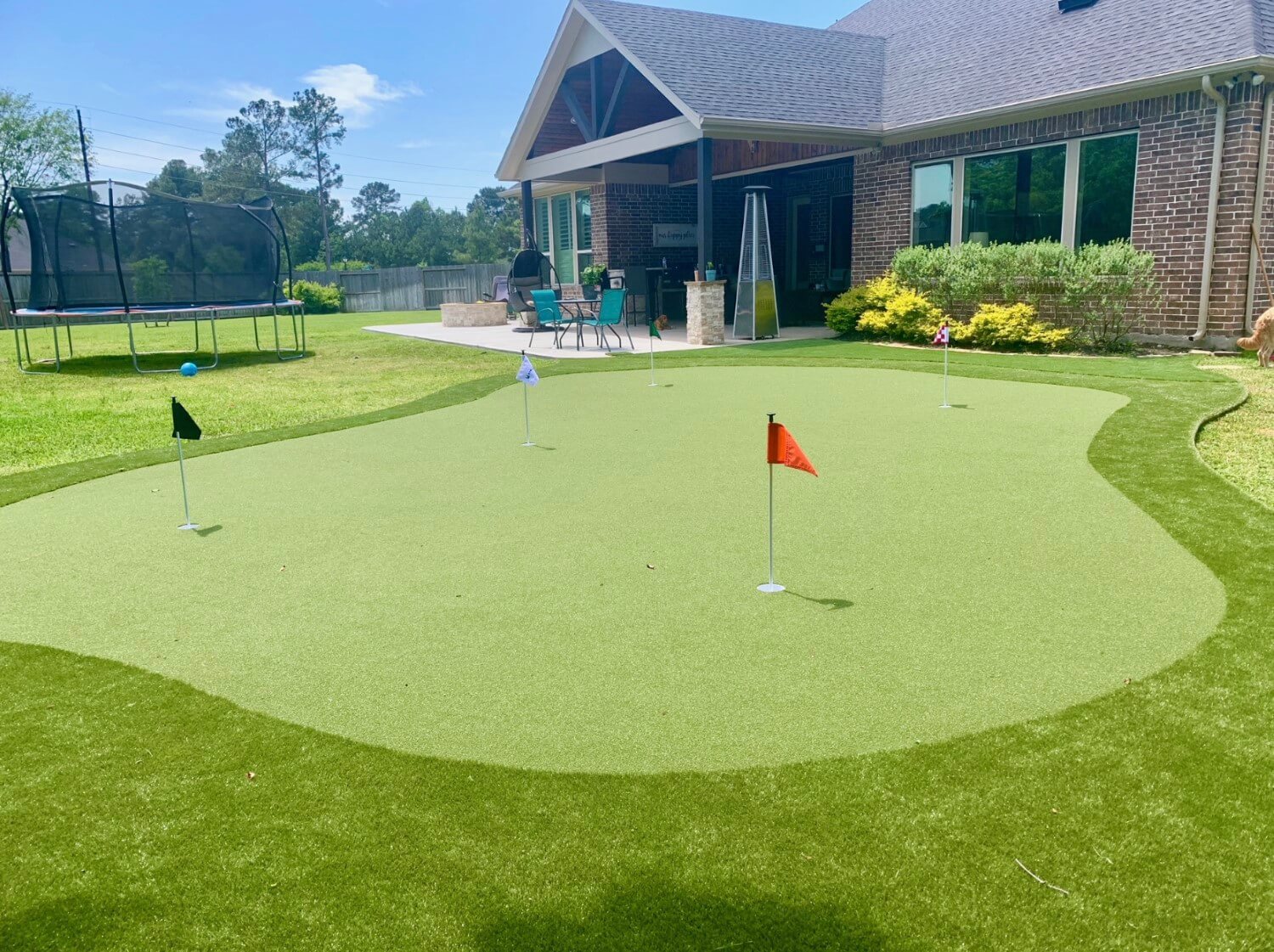 VistaFolia® Artificial Green Walls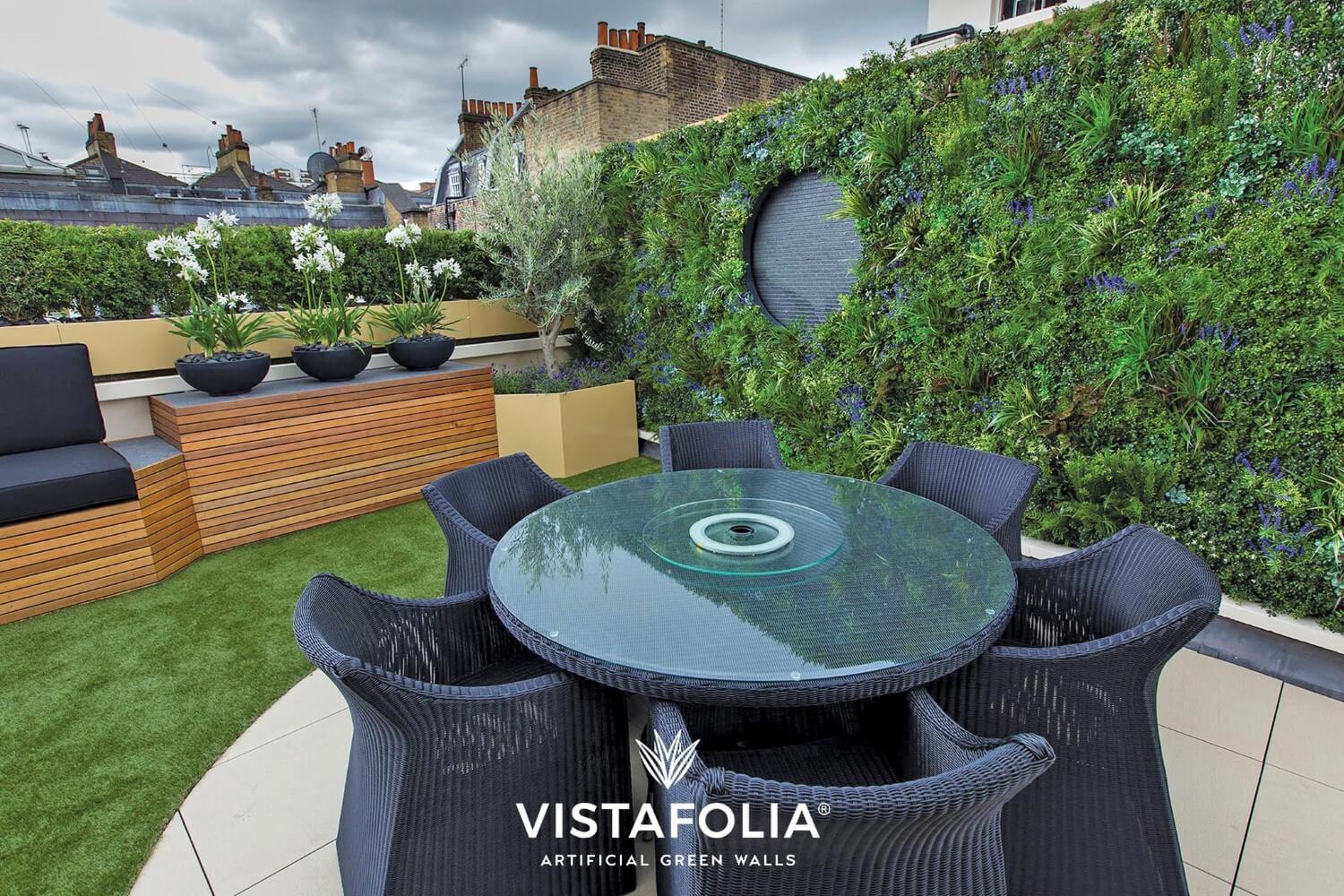 Synthetic living wall designs are inspired by both nature and our customers. Our vertical gardens in Mercer Island are manufactured utilizing the highest quality faux foliage and ivies that replicate the look, feel, and behaviors of real plants. Mercer Island artificial green walls feature an exclusive 3-panel design that ensures that every installation offers a unique appearance unlike any other living wall provided by VistaFolia. Vertical gardens are tested to endure extreme weather conditions, fire rated, and ideal for any interior or exterior design where real plants could not otherwise survive.
Quick and easy installation
Great for indoor and outdoor designs
8 varieties of bright colors and lush textures to choose from
Lightweight panels designed to allow free movement of air
Unmatched realism: exact colors, shadings, and dimensions
UV protection to minimize fading of outdoor installations
Customizable arrangements with a range of color boxes
Manufactured to ISO 9001 quality standards
SYNLawn is dedicated to its customers and their projects. We insist on providing the highest level of customer service and meticulous installations at ever job site. With more than 50 years of research and development instilled in our products, we are confident that we offer the most realistic, durable, and eco-friendly artificial grass available to date. With the help of industry professionals such as landscape architects, landscape designers, general contractors and more, we are able to provide the Mercer Island community with sustainable and vibrant landscapes that help to conserve water and reduce carbon emissions.
It's Time to Make THe change
SYNLawn is fully bonded, licensed, and insured to work on multimillion-dollar projects from start to finish. We have years of experience working with school districts and cities throughout the Seattle area to provide safer, cleaner, and greener environments for all to enjoy. For more information about our Mercer Island synthetic grass installations and state-of-the-art turf collection, contact us today to schedule a free consultation!
Get a free estimate by providing your information below:
Please fill out all mandatory fields with an asterisk *
Your information will be held confidential with our company.