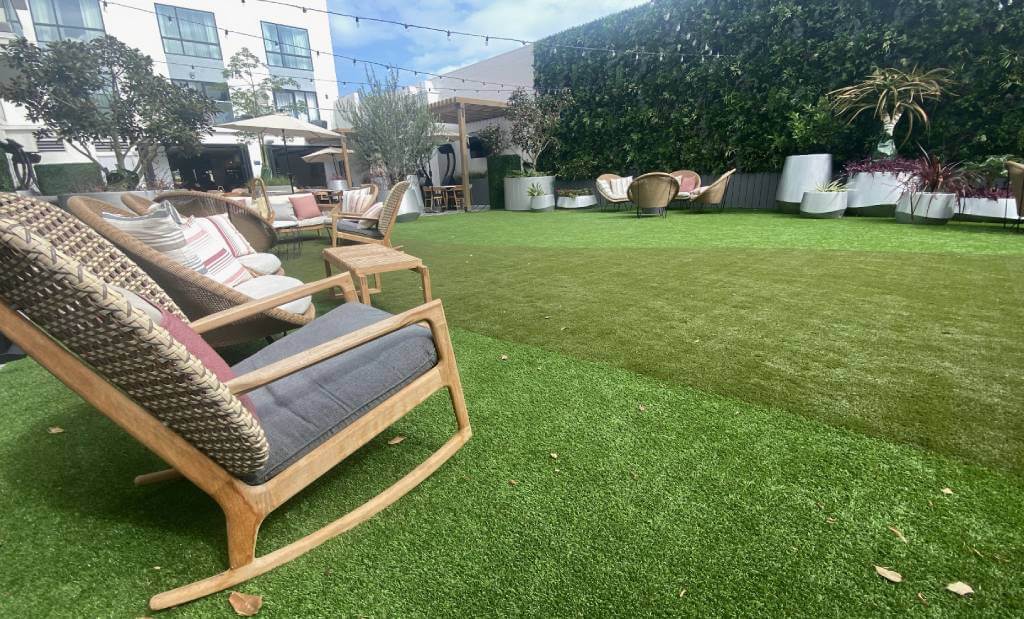 The Monsaraz San Diego, Tapestry Collection by Hilton™
Square footage: 2,500 square feet
Products Used: SYNRye 200 and SYNSport
How Long it Took to Install: 4 days
Just minutes away from Downtown San Diego, CA, The Monsaraz Hotel recently underwent a 2,500 square feet courtyard renovation with the addition of SYNLawn® SYNRye 200 and SYNSport artificial grass. These options are added to the unique courtyard design to represents the cultural diversity and elegance of San Diego.
The once subterranean parking deck was transformed into a vibrant courtyard lounge for guests from around the world to enjoy. First, our SYNPour rubber underlayment system was installed to provide enhanced comfortability beneath the installation of our artificial grass.
These two incredible SYNLawn® turf products feature the lasting durability that SYNLawn® is known for as well as UV stabilized yarns to ensure that colors won't fade under direct sun exposure. The dense thatch combined with plant-based grass blades made from sugar cane, work to increase the overall resilience for maximum life expectancy.
With the high number of annual visitors at the Monsaraz, it was important to choose turf solutions that could withstand heavy foot traffic. Additionally, SYNSport helps to protect against fire damage boasting its ASTM E108 Class A fire rating. This rating means that in the event of a fire outbreak, first responders will have an extended time window to arrive and extinguish the blaze.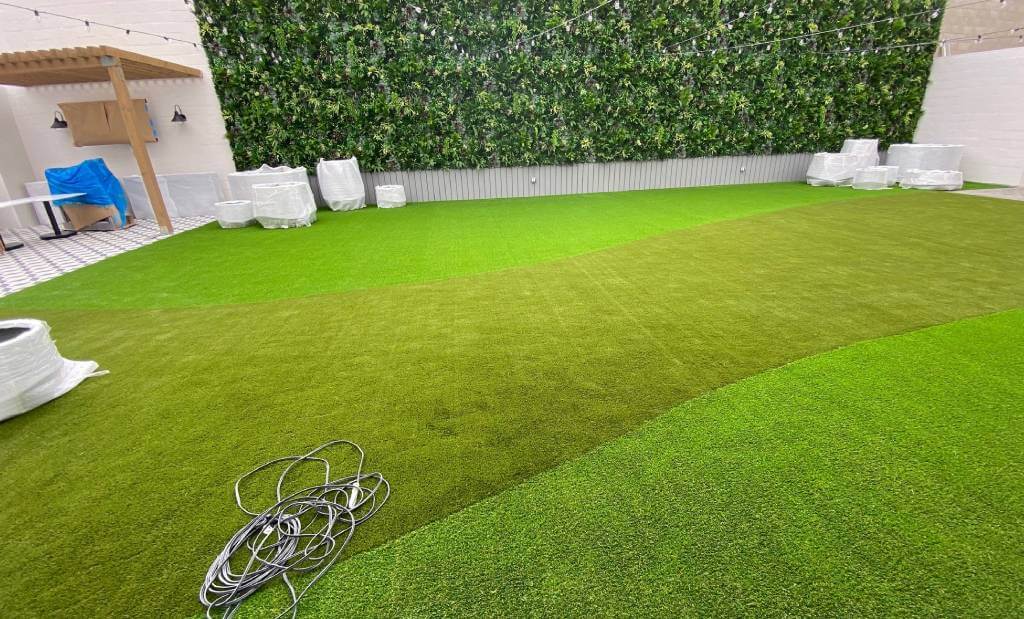 SYNRye 200 and SYNSport, much like our many other products, utilize our exclusive technologies including HeatBlock™ technology and EnviroLoc™ backing system. HeatBlock™ is the surface temperature difference you can feel in comparison to competing turf brands.
Traditional sod and competing brands tend to accumulate heat, thus making surfaces hot to the touch. However, with SYNLawn® artificial grass, Seattle residents can enjoy our grass without the worry of burning their feet.
When the sun's rays hit the surface of our synthetic grass, our exclusive HeatBlock™ acts as a thermal shield to substantially reduce surface temperatures. HeatBlock™ is scientifically proven to provide up to 20% cooler surface temperatures than any other competing synthetic turf brans.
SYNLawn® artificial grass with HeatBlock™ adds a shine-free finish to each grass blade that results in a more realistic-looking artificial turf. SYNRye 200 and SYNSport are optimal for custom golf greens, designing landscapes, and building playgrounds.
Our eco-friendly backing system, EnviroLoc™, is produced from recyclable materials made from soybeans. This patented backing technology holds the turf blades firmly in place, preventing them from shedding as ordinary sod and other synthetic turf does.
EnviroLoc™ provides enhanced durability at any pet-friendly installations, prevent holes from being dug by animals, and ensures that our products last a lifetime. With our close partnership with US Farmers, we are able to eliminate the majority of petroleum-based polymers from our artificial grass.
As a result of the recyclable composition of EnviroLoc™, we are able to reduce the impact on local landfills as part of our sustainability efforts. Furthermore, EnviroLoc™ is designed to provide optimal drainage to eliminate mud and flooded areas.
In addition to the many technological advancements, SYNLawn® artificial grass ensures safety at every installation. These two turf solutions offer IPEMA certification protecting children, pets, and others from common injuries, abrasions, and falls up to 10 feet.
Finally, to ensure The Monsaraz met ADA compliance to accommodate for all of their attendees, both of the artificial grass solutions used for this installation were placed at the exact height of one another to prevent a tripping hazard.
Customers can trust SYNLawn® Seattle for their commercial grass installations because we have years of industry experience and over 50 years of research and development instilled in our products. Our precision artificial turf installers and high-quality artificial grass collection provide unrivaled quality at every installation.
We are proud to work closely with a number of industry professionals including landscape architects, landscape designers, architectural firms, general contractors, construction companies, roof contractors, athletic facilities and more.
We work in collaboration with several industry experts and commercial institutions including:
SYNLawn® is the leading provider of artificial grass. We offer the most realistic-looking and sustainable synthetic turf made from sugar cane and soybean oil so each of our installations strengthen our goal towards environmental sustainability.
We strive to provide unparalleled customer service to ensure that every experience with our team will be a positive one. We will work diligently and closely with you to bring your unique ideas to life!
For more information on our Seattle artificial grass installation services and products, contact SYNLawn® Seattle today to schedule a free consultation!