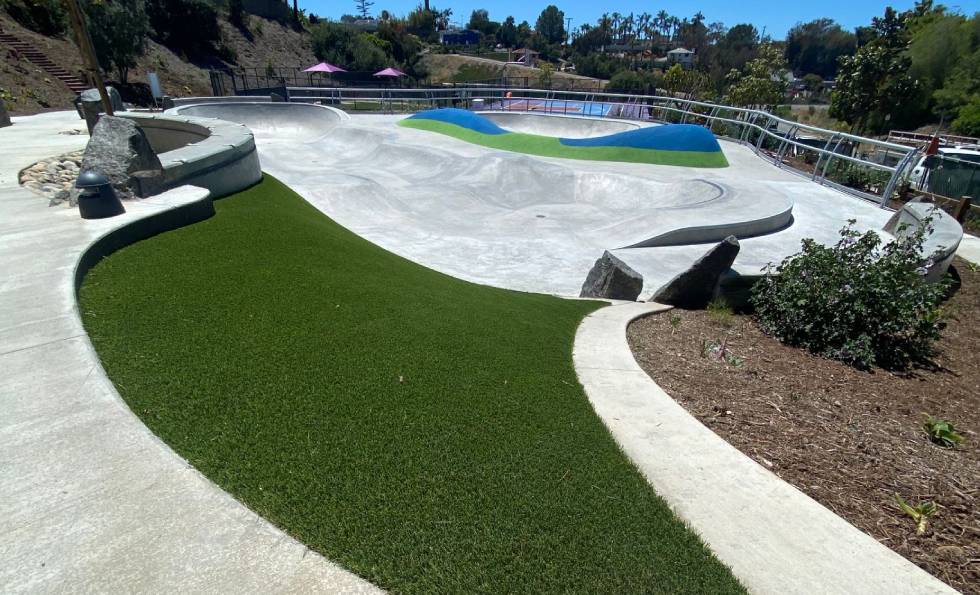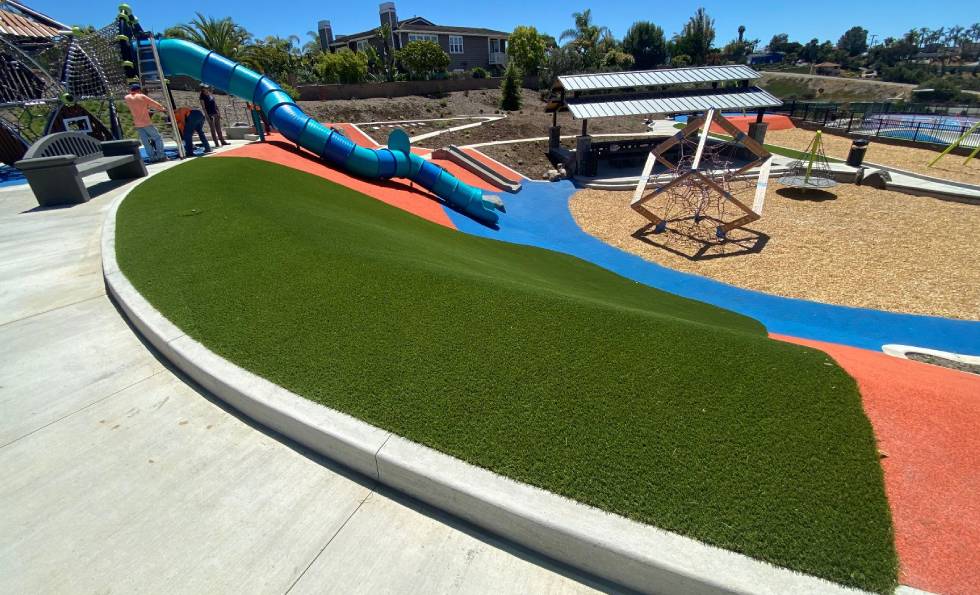 Total Square footage: 1,580 square feet
Product Used: Play Platinum
How Long It Took to Install: 4 days
For Olympus Park, the decision to choose SYNLawn® Play Platinum was an easy one. SYNLawn® designs and manufactures the most realistic and technologically advanced artificial grass Seattle has to offer. This plant-based artificial grass playground solution is safe for children and pets and is perfect for parks and school playground facilities. Play Platinum meets IPEMA requirements and is ASTM 1292 certified for protection against falls of up to 10 feet. Play Platinum helps prevent common injuries and abrasions that typically occur during playtime and is ASTM E108 Class A fire rated. To achieve this rating, our products undergo extensive fire testing to provide first responders with the widest time window to contain and extinguish the fire. We wanted to ensure that members of our community are provided with more time to get to safety and minimize property damage. Additionally, Play Platinum implements two of our proprietary turf technologies, Super Yarn™ turf yarn and our EnviroLoc™ backing system. These features work together to extend the lifespan of our Seattle artificial turf installations and provide the highest durability and most true-to-life appearance.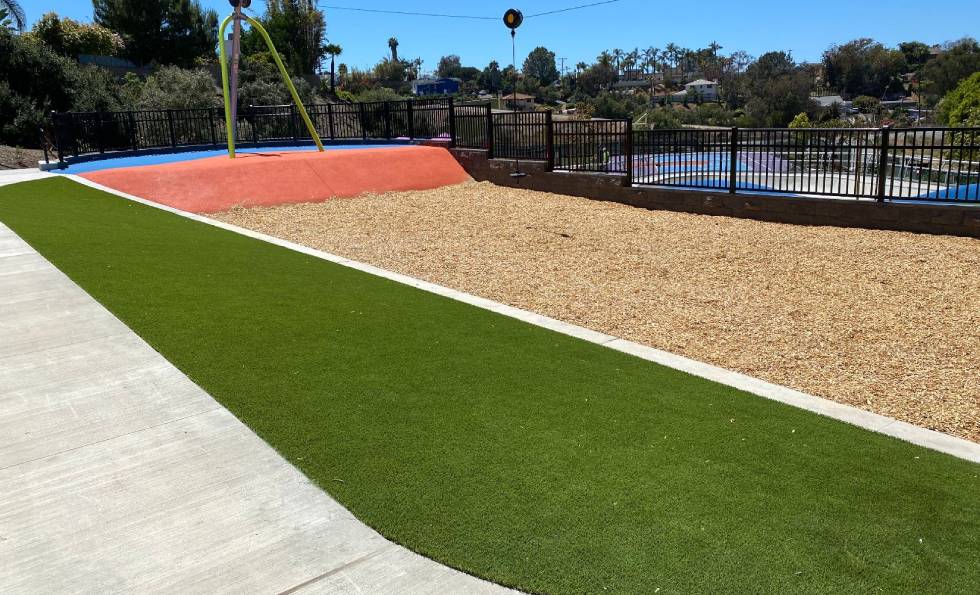 First-of-its-kind Super Yarn™ technology was created to make every SYNLawn® artificial turf installation the cleanest, safest, and most durable possible. This proprietary turf yarn includes three highly effective technologies, Sanitized® antimicrobial, DualChill™, and StatBlock™, bound at the molecular level.
Sanitized® Antimicrobial removes pet odors and 99% of bacteria from turf surfaces as well as prevents the accumulation of bacteria, mold, and fungus
DualChill™ IR Reflective Technology substantially lowers surface temperatures and protects surfaces from fading under direct sunlight
StatBlock™ Anti-Static prevents the buildup of static electricity from the turf surface to provide safer and more comfortable lawns at every application
With SYNLawn® Seattle playground turf, you can ensure that your kids and students are in safe hands. Our playground flooring solutions are plant-based, free of harmful chemicals, heavy metals, and choking hazards found with other playground flooring products. In addition, we install a proprietary Fall Pad® shock absorption system beneath our playground installations to absorb the impact of a fall and reduce the severity of injuries. With our Omega technology, our turf fibers also maintain their upright posture for to provide an additional cushion at every playground.
SYNLawn® artificial grass is a preferred choice for commercial installations due to its unrivaled realism, technological advancements, and minimal maintenance requirements. SYNLawn® Sacramento artificial grass provides outstanding performance and durability in areas with heavy foot traffic and intense athletic activity.
It resists fading thanks to its UV-stabilized turf fibers and is backed by an unmatched lifetime warranty. Additionally, we work together with US farmers to create our products with recyclable materials such as sugar cane and soybean oil to ensure that our synthetic grass collection is recyclable and sustainable.
We work closely with landscape designers and architects to design and construct vibrant, eco-friendly landscapes that don't require time and money-consuming maintenance. We also partner with other industry professionals such as pool builders, real estate developers, general contractors and more.
We are the number one choice for school districts, preschools, athletic facilities, colleges, and universities looking to add a high-performance artificial grass to their playgrounds and athletic fields. Our superior safety features and expert Seattle artificial grass installers will ensure that your artificial turf installation will be reliable through every season, for many years into the future.
SYNLawn® Play Platinum also features or environmentally conscious EnviroLoc™ backing system made from soybean oil. This backing system is composed mostly of bio-based polymers derived from soybean oil to eliminates the need for significant amounts of petroleum-based components found in standard turf backings.
EnviroLoc™ is a multi-layered backing system designed to prevent wear and tear under heavy foot traffic. It locks-in the blades of artificial grass to prevent shedding and ensure that your playground turf stays lush and comfortable for many years to come. EnviroLoc™ also helps to make our playground installations ADA compliant.
Our turf will not shift on impact and wheelchairs are able to maneuver seamlessly across the lawn. All members of our community can enjoy SYNLawn® safely.