Residential Artificial Turf Installation in Redmond, WA
SYNLawn® is the leading provider of Redmond artificial grass and golf putting greens, and for good reason! Homeowners are making the switch to our plant-based Redmond artificial turf and saving substantial amounts of time and money annually on lawn care bills.
Our Seattle synthetic grass is perfect for all climates and spaces, and very safe for children, pets, and the environment. SYNLawn® products are the result of 50 years of research and development dedicated towards creating an environmentally friendly, plant-based Redmond synthetic grass that utilizes exclusive turf technologies to look more realistic and last longer than any other traditional or artificial lawn solution.
Any SYNLawn® Redmond synthetic turf installation includes exclusive features and benefits including:
Unmatched Limited Lifetime Warranty
We offer a variety of USDA certified products for using 60-70% bio-based materials within our turf composition
Super Yarn™ technology — includes Sanitized® antimicrobial, DualChill™ IR reflection, and
StatBlock™ anti-static for cleaner, longer-lasting, and more comfortable surfaces
EnviroLoc™ soy-based backing system — anchors turf blades to prevent shedding and tearing
UV-Stabilized yarns — prevents the turf from fading in the sun
Fire-rated and tested – We offer the largest collection of ASTM E108 Class A fire rated turf products
Odor-controlling top-dressing Envirofill® reduces up to 99% of odors caused by pet waste
Turf fibers made from sugar cane
Hypoallergenic
Made in our own manufacturing facility in Dalton, Georgia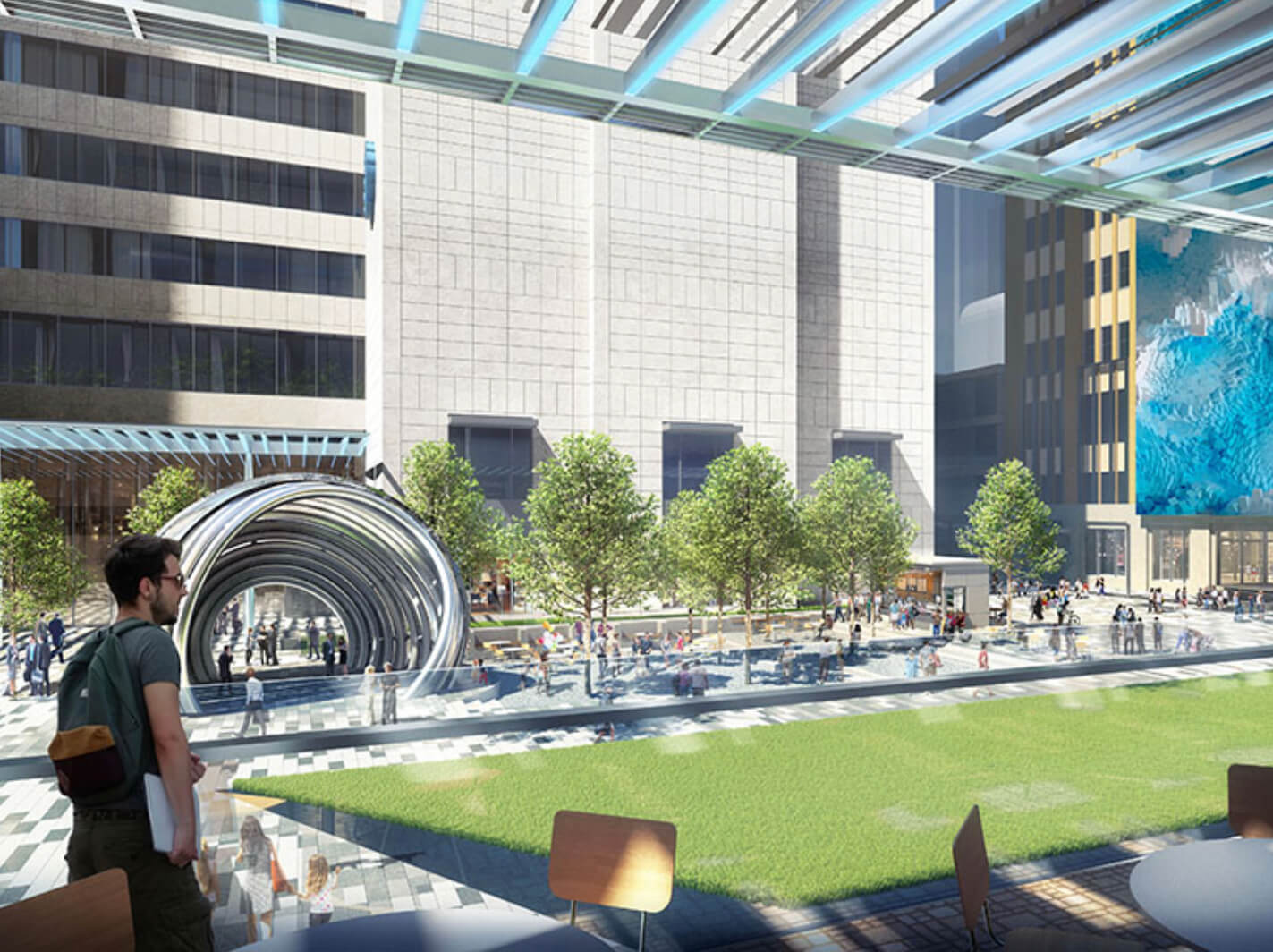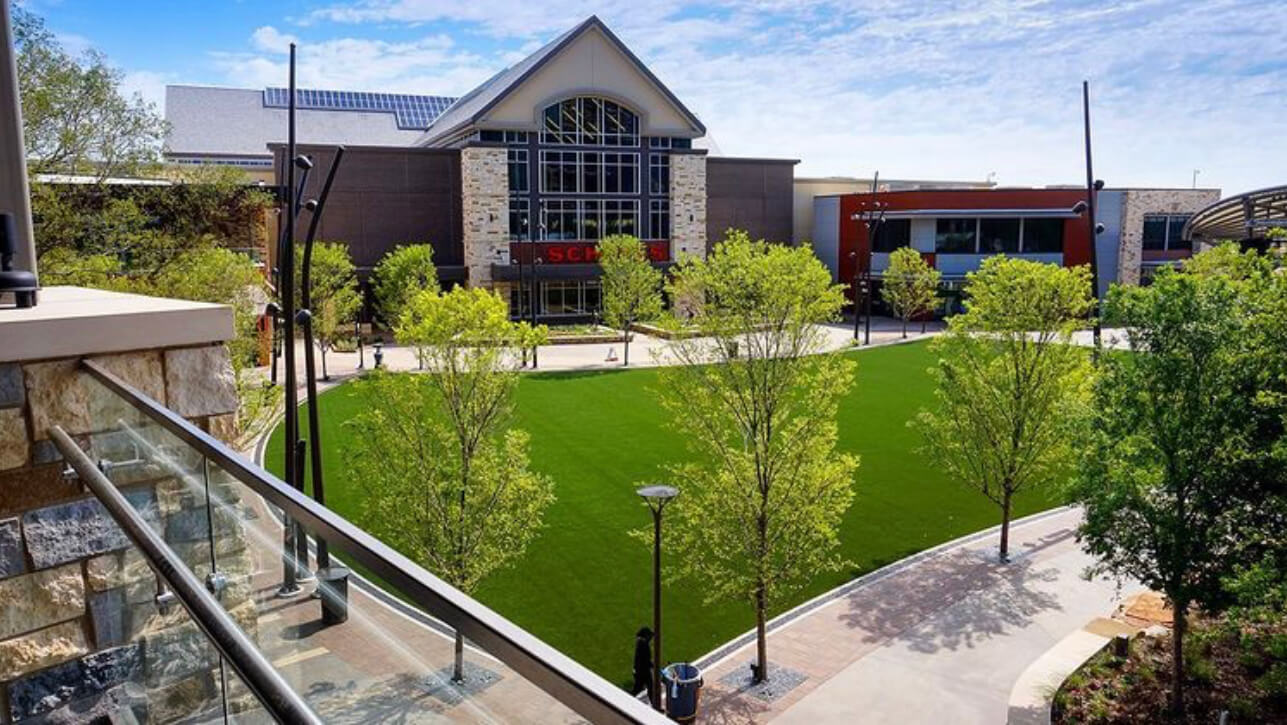 Redmond, WA Commercial Synthetic Grass Installation
Business and commercial property owners understand that time is precious. With this in mind, it can be extremely difficult to maintain a landscape that will set a proper and lasting impression on customers. SYNLawn® Redmond commercial turf provides landscapes with an ultra-realistic and low-maintenance alternative to traditional sod. No more maintenance, mud, or deterioration. Our products allow Redmond business owners and commercial properties to get a larger return on their investment by eliminating the need for mowing and fertilizing, and by providing their guests with an amenity that keeps them coming back! In areas where heavy foot traffic and stunning outdoor aesthetics are vital, SYNLawn® Seattle holds the answer.
SYNLawn® artificial grass is suitable for many businesses in Redmond, WA including:
Shopping Centers & Malls
Hotel Lawns & Pool Areas
Commercial Golf Greens & Mini Golf Courses
Public Parks & Playgrounds
Office Rooftops
Restaurant Patios
Condo & Apartment Landscapes
Dog Parks, Dog Boarding Facilities, & Pet-friendly Landscapes
Gyms & Fitness Centers
School Districts, Daycare Facilities, & Preschools
Municipalities, City Landscapes & More
Redmond, WA Pet-Friendly Artificial Grass
With our Redmond pet turf installations, SYNLawn® can create the perfect paradise for your pet to enjoy. Redmond pet grass allows your pet to live its life to the fullest without the need for maintenance, frequent clean up, or removal of unwanted pests such as fleas, ticks, and other rodents. And finally, no more muddy paws!
SYNLawn® Seattle pet turf provides Redmond residents with a multitude of benefits and unique features such as:
Stain and odor resistance with the incorporation of Envirofill™
Very easy clean up – just rinse with the hose or allow the rain to do it for you
Unrivaled drainage capabilities keep your lawn enjoyable even after heavy downpour
No watering, fertilizing, or mowing ever needed
No yellow or brown spots caused by pet waste
No digging and no holes in your yard from pets or rodents
No dirt or mud to be tracked into your home
No pests such as fleas or ticks, help prevent the spread of diseases
Added security upgrades available for destructive canines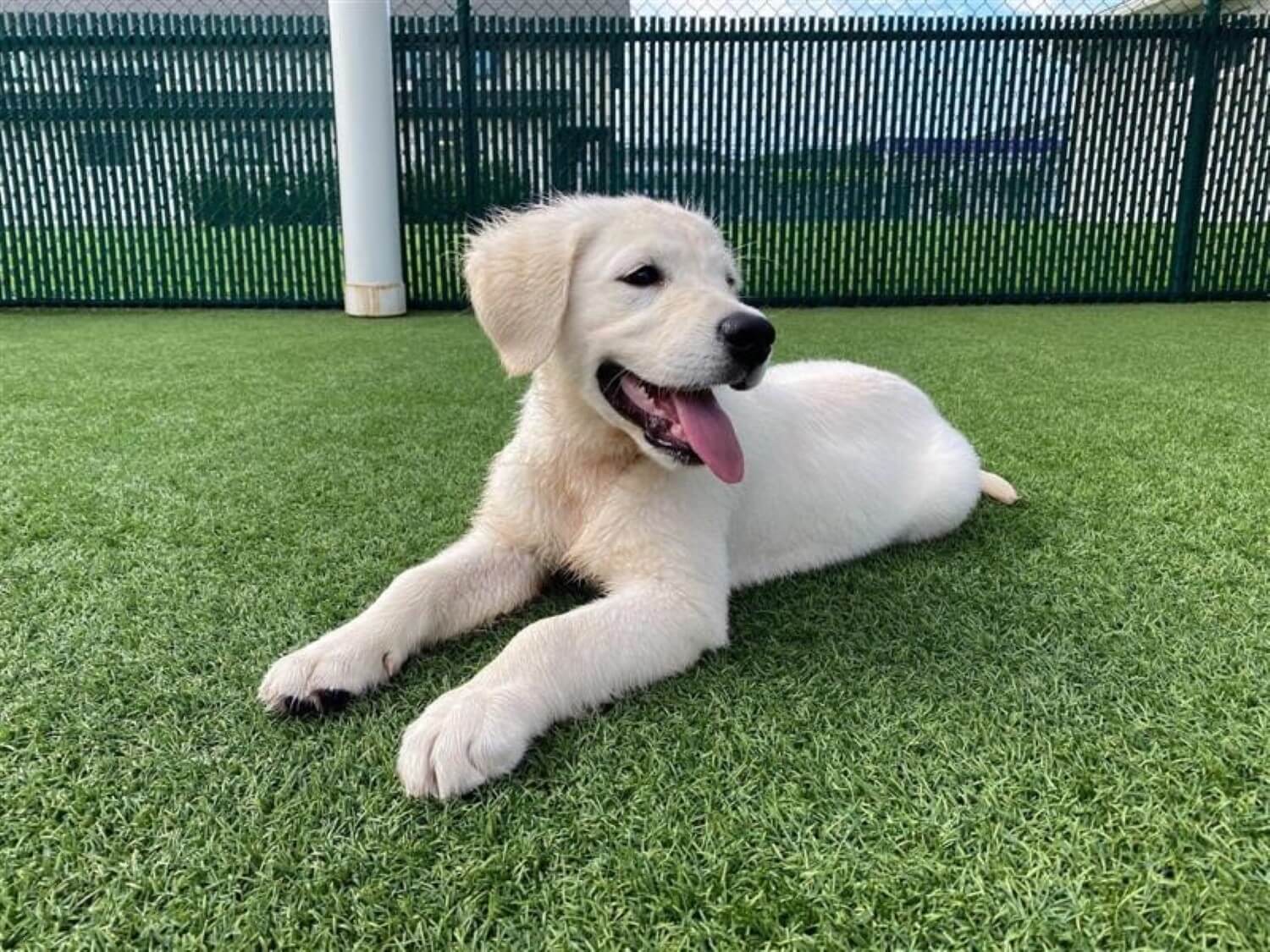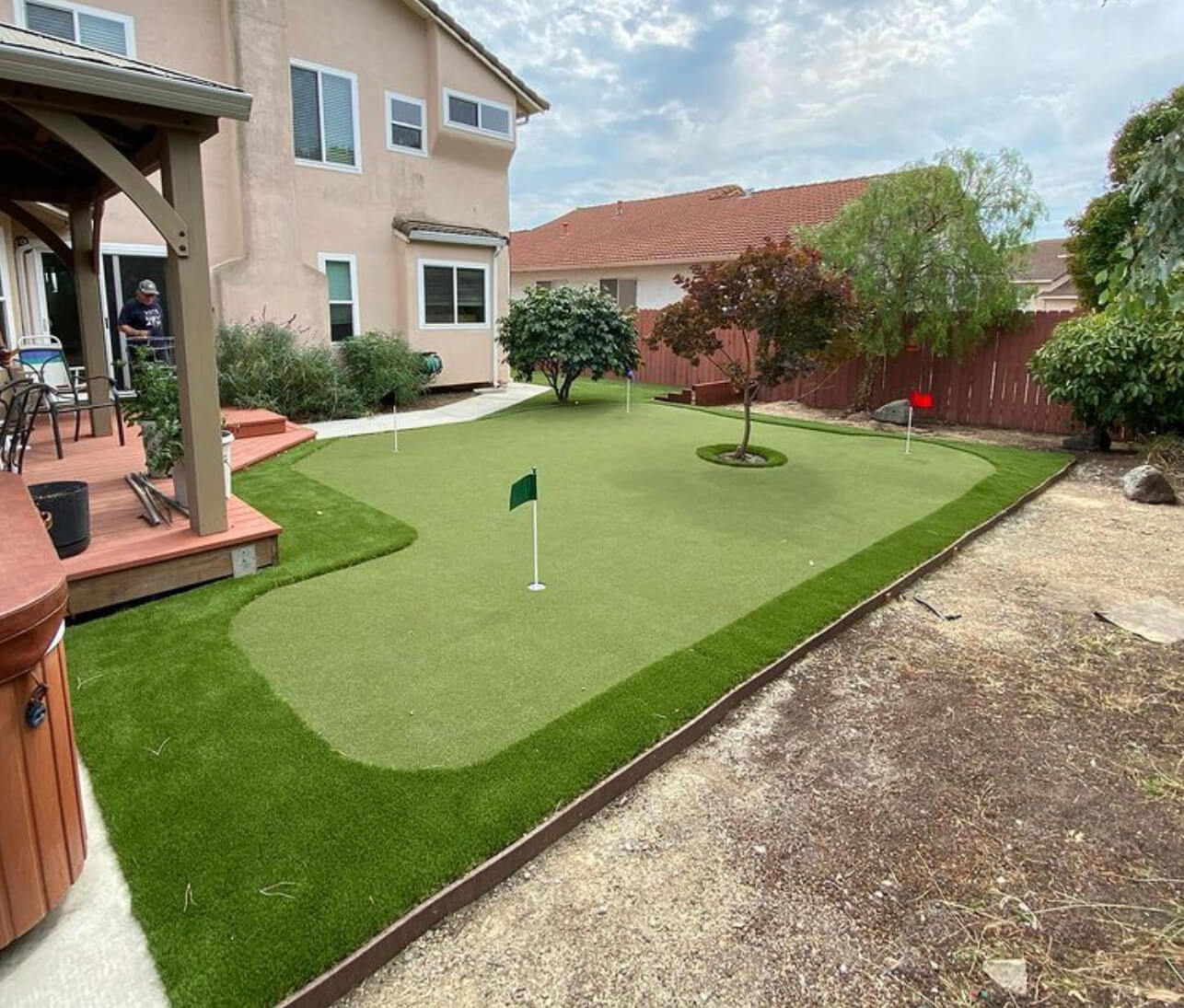 PGA-Caliber Putting Green Installation in Redmond, WA
SYNLawn® Redmond golf greens are designed to provide golf enthusiasts of all ages and skill levels with a convenient place to practice their short game skills or compete with friends. Not only are they customizable for any indoor or outdoor space, but our Redmond putting greens can be customized with LED cup lights, tee boxes, various fringe, rough, and fairway surfaces, sand traps, bunkers and more! Manufactured with the help of professional golf coach Dave Pelz, SYNLawn® Seattle putting greens provide PGA-caliber performance and superior durability found on professional courses with its 10.3 Stem meter rating. Our state-of-the-art golf green turf is engineered to imitate natural greens as closely as possible, both in appearance and in performance.
Designed to absorb and disperse energy like professional courses
Precision installation services provided by certified SYNLawn® GreenMaster™ professionals
Customizable with obstacles and LED lights to increase your challenge and personal flair
Indoor and outdoor compatibility
Non-perforated surfaces prevent water from settling beneath the turf surface
Realistic putt, true ball roll, and natural slow down characteristics
Hyper-Realistic Redmond Artificial Living Walls
Every interior or exterior design can greatly benefit from the inclusion of our VistaFolia® artificial living walls. Our artificial plant wall panels feature hyper-realistic and maintenance free artificial greenery and offer quick and easy installation. We offer 8 varieties of bright colors and lush texture boxes so you can customize your green wall panels to fit any design or color scheme. These lightweight panels are designed to allow free movement of air to replicate the natural beauty of real plants without the hassle of irrigation and maintenance. Redmond artificial green walls from VistaFolia® additionally provide unmatched realism with exact colors, shadings, and dimensions, UV-protection to minimize fading of outdoor installations, extreme weather resistance for outdoor installations, are fire tested and certified, and manufactured to ISO 9001 quality standards.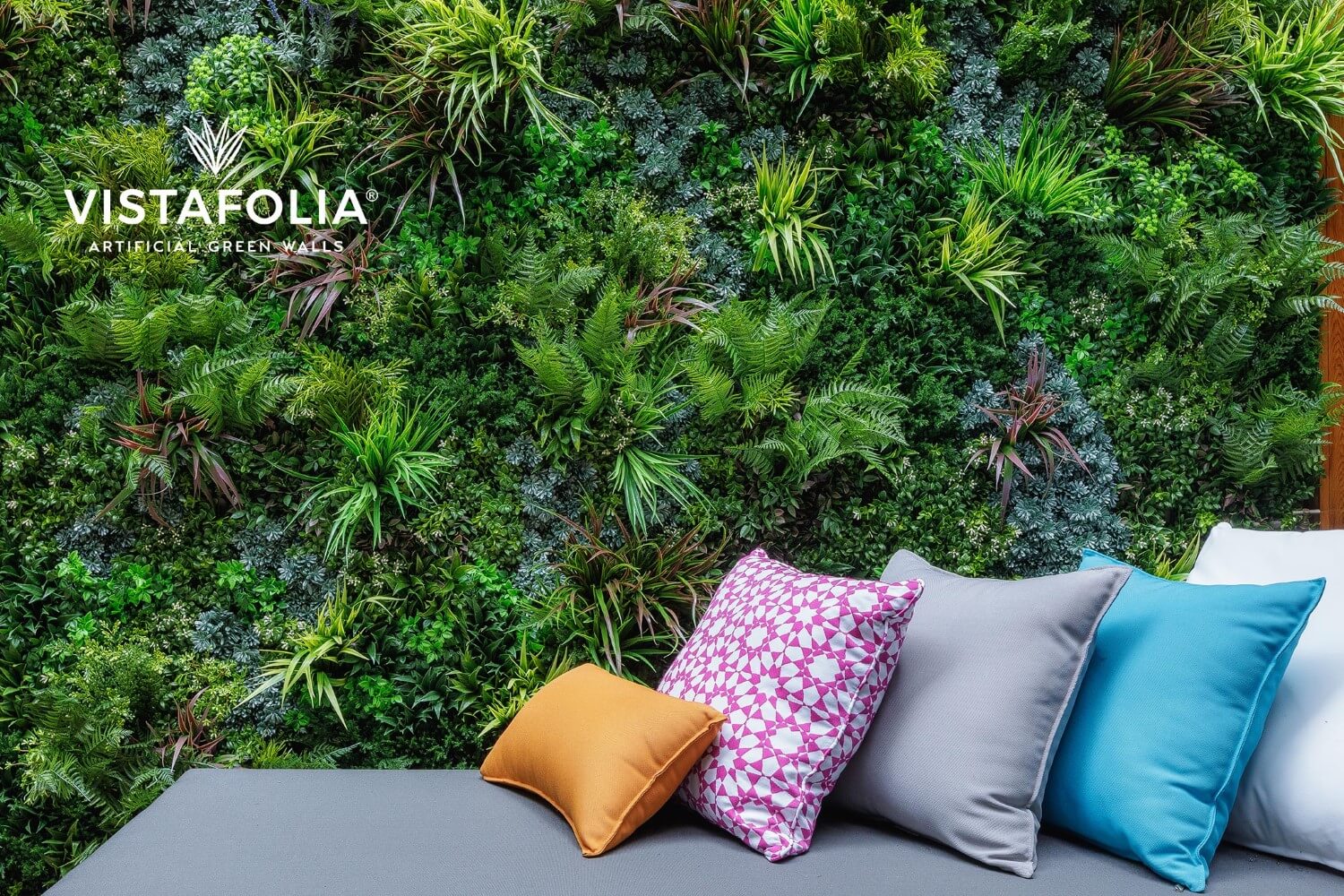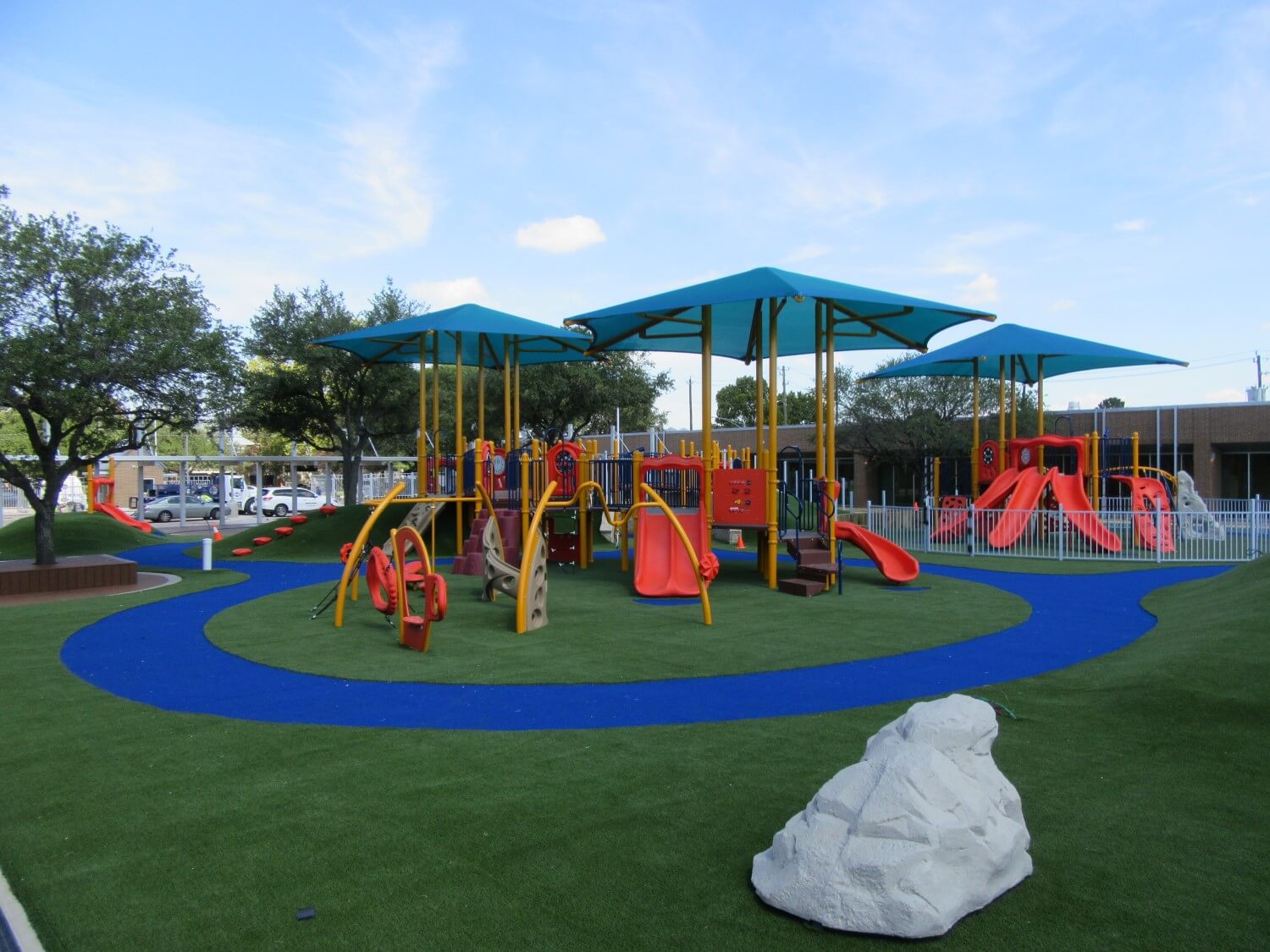 Redmond Playground Turf Installation
Safety is the most important aspect of every playground design. Redmond playground surfaces must be able to withstand heavy foot traffic and provide children with reliable injury prevention capabilities. Every SYNLawn® playground turf installation in Redmond, WA should comply with ADA and IPEMA regulations, ensuring long-term safety. SYNLawn® Seattle is here to ensure that our neighborhood and community playgrounds are the safest they can be! Our Seattle playground turf solutions ensure that fall heights meet strict safety standards at all times. In addition, we use cutting-edge turf technologies and precision playground turf installation techniques to guarantee that every Redmond playground is built to support our kiddos during play time for many years to come!
SYNLawn® playground grass is the #1 choice for school districts, private schools, daycare facilities, and municipal playgrounds because of the numerous benefits found in our turf such as:
A hypo-allergenic solution free of harmful chemicals, heavy metals, and choking hazards
Made in the USA with recyclable and eco-friendly materials
The grass layer consists of soft, synthetic grass fibers that are non-abrasive
We can add a shock absorption Fall Pad® cushion beneath the turf for added injury prevention
StatBlock™ is a carbon-based anti-static component found in our turf yarn that reduces static buildup
HeatBlock™ is another proprietary technology found in our turf yarn designed to lower rising surface temperatures by reflecting sunlight and reducing heat buildup
Tested to meet HIC (Head Injury Criteria) requirements
IPEMA certified & ADA compliant (wheelchair accessible)
ASTM E108 Class A fire rated products
Synthetic Turf for Rooftops, Decks, and Patios in Redmond, WA
A lot of us have unused space on our rooftops, deck, and patios that we don't know what to fill with or even how to maximize the space. SYNLawn® Redmond artificial grass makes it easy to revitalize and grow your living spaces, providing you with a new place to lounge and spend time with family, friends, co-workers, employees, and more. With our HeatBlock™ technology, your lawn or landscape will be suitable to relax on thanks to significantly cooler surface temperatures. Even during the rainy months, our Redmond rooftop artificial grass drains optimally in combination with proper irrigation to prevent flooding and water build up. With our proprietary Super Yarn™ technology, you won't need to worry about mold or bacteria buildup. The Sanitized® antimicrobial element will take care of that!